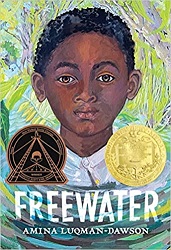 Freewater
by Amina Luqman-Dawson
Jimmy Patterson Books (Little, Brown and Company), 2022. 403 pages.
Review written February 2, 2023, from a library book.
Starred Review
2023 Newbery Medal Winner
2023 Coretta Scott King Author Award Winner
2022 Cybils Middle Grade Fiction Award Winner
I was lucky and picked up this book at the Chantilly Regional Library immediately after its win of the Newbery Medal was announced, while the library was still closed. To be fair, I was the one who had turned it in at the Chantilly library the week before. I'd had it checked out because it was a Cybils Finalist, but had decided I wouldn't get around to reading it. I changed my mind! But I also decided that to be fair to all the people wanting to read it, I should read it quickly and return it.
Here's what the author puts at the front of Freewater:
Some escaped the treacheries of enslavement by going North. But there were also those who ran away to the deep swamps and forests of the American South. There, in secret, they created free lives.

This is a tale of what might have been.
After that, we're pulled into the action, with dogs chasing a boy named Homer and his 7-year-old sister Ada. Homer is upset with himself because he'd promised to bring his friend Anna with them, and Mama went back for her. But now neither Mama nor Anna is here, and they're trying to fight off the dogs. But a river is nearby, and Homer and Ada jump into the river.
The river does take them away from the dogs, but it sweeps them downriver into the swamp. After some wandering, a man camouflaged in the trees rescues Homer from a snake. He takes them to some "tree people" — people dressed like trees, camouflaged like trees, who lead them further into the swamp, until they come to the community of Freewater, where an entire community of Black folks have been making their home in the swamp for years.
So this is the story of life in that community. But there's lots of tension. The master of the plantation is clearing part of the swamp, and plans to hire some militia men to find all the runaways he suspects are living there. At the same time, Homer wants to go back for Mama and Anna. And Sanzi, who was born in Freewater, longs to go outside the community and bring back useful things that will make her a hero — but in her eagerness and impatience, sometimes things go wrong. So the reader worries for the community. Can they continue to live free, in hiding, foraging from the swamp and stealing from plantations?
Things all come together when there's a big wedding at the plantation Homer escaped from. He thinks that would be the opportunity to help his Mama escape. But when he goes, several children of Freewater insist on going with him, including little Ada. It's all too easy to imagine disaster happening.
Without telling what happens, it's dramatic and tension-filled and very satisfying. I finished the book very happy about this year's Newbery choice.
Find this review on Sonderbooks at: www.sonderbooks.com/Childrens_Fiction/freewater.html
Disclosure: I am an Amazon Affiliate, and will earn a small percentage if you order a book on Amazon after clicking through from my site.
Disclaimer: I am a professional librarian, but the views expressed are solely my own, and in no way represent the official views of my employer or of any committee or group of which I am part.
What did you think of this book?