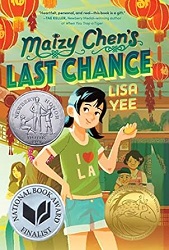 Maizy Chen's Last Chance
by Lisa Yee
Random House, 2022. 276 pages.
Review written February 17, 2023, from a library book.
Starred Review
2023 Asian/Pacific American Literature Award Winner, Children's Literature
2023 Newbery Honor Book
2022 National Book Award Finalist
Maizy Chen's Last Chance is about a girl who's spending the summer with her mother at her grandparents' place in Last Chance, Minnesota. She didn't know her grandparents before this summer, but her grandfather is very sick, so her mother came to make peace.
In Last Chance, her grandparents run a Chinese restaurant, which has been in the family for more than one hundred years. As Maizy spends time with her Opa, he begins telling her the story of his grandfather, Lucky, and how he came to America and started running this very restaurant. Maizy also does her own research about some pictures up in the restaurant. They turn out to be pictures of "paper sons" who immigrated to America under fake papers, but got help getting on their feet with Lucky in the Golden Palace restaurant.
In the present, Maizy needs to get her bearings and make some summer friends. And then the giant wooden bear that's been standing in front of the restaurant gets stolen, with a nasty note with racial slurs left in its place. Can Maizy get the bear back and figure out who did it? Maizy also spends time getting to know her grandparents — and writing better fortunes for the fortune cookies that everyone expects in a Chinese restaurant.
This book has a nice weaving together of the past and the present. Lucky's story is told by Maizy's Opa in short bits that keep you — and Maizy — wanting more. And she ends up proud of her family and their place in America.
Find this review on Sonderbooks at: www.sonderbooks.com/Childrens_Fiction/maizy_chens_last_chance.html
Disclosure: I am an Amazon Affiliate, and will earn a small percentage if you order a book on Amazon after clicking through from my site.
Disclaimer: I am a professional librarian, but the views expressed are solely my own, and in no way represent the official views of my employer or of any committee or group of which I am part.
What did you think of this book?