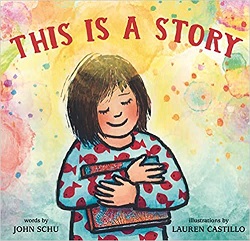 This Is a Story
words by John Schu
illustrations by Lauren Castillo
Candlewick Press, 2023. 40 pages.
Review written March 20, 2023, from a library book.
Starred Review
Yes, I was predisposed to like this book. John Schu is a librarian I met online before meeting him at library conferences and even being on an ALSC committee with him briefly. But I'm confident I'd love this book whether I knew the author or not.
The story of this picture book is a celebration of reading. It goes well with Mr. Schu's earlier book, This Is a School.
This Is a Story begins with a word, then a word on a page, a page in a book, and a book on a shelf. But then it shows us the library where the book is waiting on a shelf.
Next we zoom out to a world full of humans. We see a little girl and her family go into the library.
Sometimes humans need help . . .
Then we see a librarian who looks an awful lot like Mr. Schu showing the girl a book that matches the sea horse kite she's holding. The text simply says, "connecting."
Then we get:
This is a book.
This is a reader.
And we zoom out to more readers looking at books for answers to questions, ideas to explore, and for sparking hope. All taking place in a busy, happy library setting.
I do love that among her adorable pictures, the illustrator used covers of actual books for the illustrations. My second time through, I looked for ones I could recognize. (There are lots!)
This is a joyful and simple celebration of stories, books, reading, children, and libraries. If I were still working in a branch, I'd immediately set it aside for preschool library tours. The words are short and sweet, so it will work well even for very young kids. But there's a whole lot for kids to notice in the illustrations.
This lovely book warmed my heart.
This is a story.
And it helps us understand . . .

everything!
JohnSchu.com
laurencastillo.com
candlewick.com
Find this review on Sonderbooks at: www.sonderbooks.com/Picture_Books/this_is_a_story.html
Disclosure: I am an Amazon Affiliate, and will earn a small percentage if you order a book on Amazon after clicking through from my site.
Disclaimer: I am a professional librarian, but the views expressed are solely my own, and in no way represent the official views of my employer or of any committee or group of which I am part.
What did you think of this book?