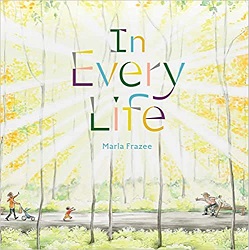 In Every Life
by Marla Frazee
Beach Lane Books, 2023. 32 pages.
Review written April 3, 2023, from a library book.
Starred Review
I'm a sucker for Marla Frazee's illustrations. I don't review even close to every picture book I come across, but I could not resist being charmed by this book. A note at the front says she got the idea from a call-and-response version of a Jewish baby-naming blessing done in a church service she attended.
The text is simple. Every two spreads follow a pattern: "In every [blank], blessed is the [blank]."
On the page with the blessing, we see eight to ten cameo pictures of people in that situation, and then you turn the page to a giant wordless painting where the blessing also applies. (The book is a bit bigger than most picture books.)
The first spread is "In every birth, blessed is the wonder." The pictures show pregnant women and babies with people who love them.
"In every hope, blessed is the doing," shows people accomplishing something – building, baking, fixing, making music, flying a kite. The big spread shows a family setting out to hike up a mountain.
I think my favorite spread is, "In every moment, blessed in the mystery." I love the moments she chose to portray.
It all finishes up with "In every life, blessed is the love."
And this is another book you need to check out for yourself and enjoy the wonderful illustrations, because my descriptions aren't enough.
Find this review on Sonderbooks at: www.sonderbooks.com/Picture_Books/in_every_life.html
Disclosure: I am an Amazon Affiliate, and will earn a small percentage if you order a book on Amazon after clicking through from my site.
Disclaimer: I am a professional librarian, but the views expressed are solely my own, and in no way represent the official views of my employer or of any committee or group of which I am part.
What did you think of this book?