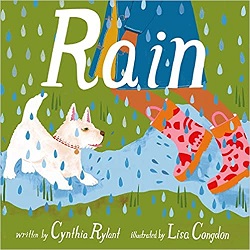 Rain
written by Cynthia Rylant
illustrated by Lisa Congdon
Beach Lane Books, 2023. 44 pages.
Review written June 4, 2023, from a library book.
Starred Review
Here's a new storytime classic for rainy days.
This picture book, with endpapers of flowers, begins before the rain comes. The birds, the squirrels, the children in the park, the cats, and the dogs all know the rain is coming. Most of those hurry home, except many dogs who "stay right there in the yard and wait for the first wet drops on their noses. Just for fun!"
The turning point comes with the duck family.
And who is most happy about the rain?

Oh, the ducks of course.
They can't wait.
They paddle and paddle
and spread the word.

Mama ducks gather up the babies
and promise them
a glorious day!
Then the rain starts, and the rest of the book is about how it is indeed a glorious day and about all the wonderful things the rain brings.
Rain is good for everybody!
This joyful and brightly-colored book (Really!) gives me a fresh, and happy, perspective on rain. What a delight it will be to share that perspective with kids.
Find this review on Sonderbooks at: www.sonderbooks.com/Picture_Books/rain.html
Disclosure: I am an Amazon Affiliate, and will earn a small percentage if you order a book on Amazon after clicking through from my site.
Disclaimer: I am a professional librarian, but the views expressed are solely my own, and in no way represent the official views of my employer or of any committee or group of which I am part.
What did you think of this book?