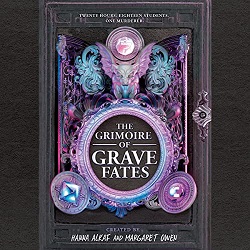 The Grimoire of Grave Fates
created by Hanna Alkaf and Margaret Owen
read by January LaVoy and Nicky Endres
Listening Library, 2023. 12 hours, 27 minutes.
Review written November 11, 2023, from a library eaudiobook.
I made sure to check out The Grimoire of Grave Fates because I love Margaret Owen's writing so much. It turns out this is a compilation from many fantasy authors. The story is set in a magical school — a school with a highly diverse population. The most hated professor — a professor who despised the diverse population — has been found dead, and it's clearly murder.
The book gives a different student's perspective for every hour of the day his body is found, beginning at 2:00 am and finishing at 8:00 pm, when the mystery is solved. Each student's story is told by a different author. And really, it's kind of amazing that this method works — the clues students turn up at the beginning do affect things later, and the mystery unfolds.
It's fun how the eighteen students featured all have different magical specialties. I'm not completely sure how that would work in one school, but it kept this book interesting. I think this is an example where I would have done better to read the book rather than listening to the audiobook, because I would have referred back to the explanation at the beginning of the different houses of the school and it would have helped me keep the characters straight. As it was, it was looking at the Table of Contents for the eaudiobook that helped me realize there was one student each hour and a different author for each student.
These are the authors who wrote the chapters: (I've only read a few of them before, and need to fix that.) Marieke Nijkamp, Randy Ribay, Kwame Mbalia, Darcie Little Badger, Cam Montgomery, Preeti Chhibber, Kat Cho, Kayla Whaley, L. L. McKinney, Hafsah Faizal, Julian Winters, Karuna Riazi, Tehlor Kay Mejia, Mason Deaver, Victoria Lee, Yamile Saied Mendez, Jessica Lewis, and Natasha Diaz. I assume that Hanna Alkaf and Margaret Owen were responsible for the overall story and what major plot points each author would hit.
As a mystery, this book was nothing special, but as a window into diverse magical students — it was delightful. I enjoyed each student who was featured and the look into their type of magic. These authors are people with imagination and empathy, and I'm going to look for more of their work.
Find this review on Sonderbooks at: www.sonderbooks.com/Teens/grimoire_of_grave_fates.html
Disclosure: I am an Amazon Affiliate, and will earn a small percentage if you order a book on Amazon after clicking through from my site.
Disclaimer: I am a professional librarian, but the views expressed are solely my own, and in no way represent the official views of my employer or of any committee or group of which I am part.
What did you think of this book?