After attending the program on Readers' Advisory Research and Trends, I stopped in at the end of a meeting of the Notable Books for Young Readers Committee. These meetings are open, so you can come and listen. I heard them discuss a few books I've read: Okay for Now, by Gary Schmidt, and The Great Wall of Lucy Wu, by Wendy Wan Long Shang. They also discussed a book I have checked out, The Emerald Atlas, by John Stephens, and made me aware of a book I hadn't heard much about: Between Shades of Gray, by Ruta Sepetys.
The format of the discussion was interesting. First, people talk about the strengths of the books, and then any "concerns." For some of the books, there was no question that the books were very good, more a question of whether they are "notable." For Okay for Now and Between Shades of Gray, one "concern" was that they are edging toward Young Adult, not children's books. Indeed, later when I attended a Best Fiction for Teens committee meeting, exactly those two books were mentioned.
However, that concern worries me. I haven't read Between Shades of Gray yet, but it sounds like an outstanding book. And Okay for Now is absolutely brilliant. Will these books get overlooked by award committees because they will be enjoyed by both children and teens? It will be interesting to see what they decide.
After that meeting concluded, I was fading fast and went back to my hotel for a nap. Then I went to dinner with my roommates, April and Katie. They had gotten a recommendation from a waiter, and we ate at the Cafe Desire, which was indeed excellent. I love this picture of them: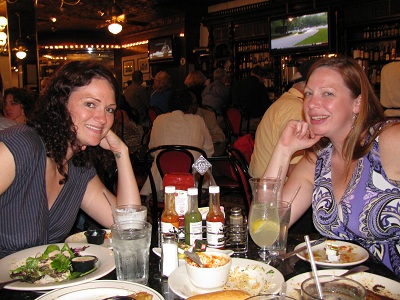 I was lucky with my roommates. I "met" April from the DC KidLit Book Club e-mail list, but we had never met in person. She's a new teen librarian at the brand-new Rust Library in nearby Loudoun County, working with some of my former co-workers. I loved her enthusiasm and initiative getting involved with YALSA. She's been friends with Katie for a long time, and Katie is a high school English teacher who is finishing up a Library Science Master's. She had a good perspective on what teens like.
After dinner, I'd been looking forward to a screening of the film, "The Library of the Early Mind." I posted the trailer when anticipating ALA.
The movie was outstanding. It was a documentary about picture books and picture book creators and how much they affect kids. There were lots of great quotes I wished I could write down (but it was dark!). Afterward, they had a panel of people in the film:
Pictured are Roger Sutton from The Horn Book Magazine, the director of the movie, Daniel Handler (Lemony Snicket), Grace Lin, and Jack Gantos. I liked what Jack Gantos said when asked what he thought of seeing himself in the film. His answer was what you'd expect from a writer: He said he wished he could edit it.
Afterward was a reception. With the small crowd, I was able to tell the director how excellent I thought the movie was. He said to Like it on Facebook, and I'd be able to get updates as to when the DVD comes out and when they post some additional interview footage from the authors they interviewed.
And I saw Grace Lin, and she remembered me! From our reading The Wizard of Oz together last year. I asked if I could get a picture with her again, and she said we can make it a yearly tradition. 🙂
And finally, I met Travis Jonker, of 100 Scope Notes, and got to talk with him. As it happens, he's already been a year on the ALSC Committee which I am just beginning to serve on, Children and Technology. So he answered some questions I had about the committee and I enjoyed meeting him.
Then, to top off an exciting day, I took the shuttle back to the Mariott, a couple blocks from my hotel. As I was walking down the sidewalk, talking with Sharon from Unshelved, we saw several Librarian/Publishing types coming out of a restaurant.
Lo and behold, one was Maureen Johnson! I asked her if she was Maureen, and she said Yes, and I asked if I could get my picture with her. Here it is: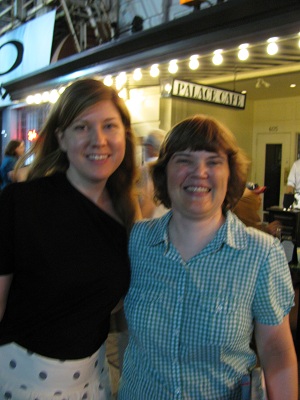 When I got back to my room, I was telling my roommates about the encounter and how nice all the authors we'd met are. We were discussing if the authors mind being accosted like that. I tweeted: "I bet @maureenjohnson was surprised when she was accosted on the street. But that's what happens when celebrity authors come to a city full of librarians."
Imagine my delight when she tweeted right back, "I liked it!" 🙂
Maureen Johnson is my favorite person to follow on Twitter. I don't know how she manages to be so funny in only 140 characters, but she does. And she tweeted to me! (Not to mention she writes excellent books! Here are my reviews of Suite Scarlett and her stories in Let It Snow! and Zombies vs. Unicorns.)
The next day was a big one, finishing off with the Newbery/Caldecott/Wilder Banquet! I'll blog more about ALA Annual Conference 2011 tomorrow.