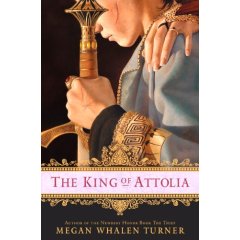 The King of Attolia
Reviewed March 5, 2006.
Green Willow Books, New York, 2006. 387 pages.
Starred Review.
Sonderbooks Stand-out 2007: #1, Teen Fiction
The King of Attolia is a sequel to Newbery honor winner The Thief and its follow-up, The Queen of Attolia. All three of the books have surprises and reversals toward the ends of the books. So I'm afraid I can't even tell you the situation at the beginning of this book—since it will give away surprises in The Thief and especially in The Queen of Attolia. I definitely recommend reading these books in order, since that will give you the fun of the surprises.
As soon as I learned from our library book rental brochure that this book was out, I ordered a copy for myself. The books are so good, I knew I'd want to own it and read it many times. When it arrived, I read through it, and then I began reading the first book to my son at bedtimes. Much to my delight, he doesn't remember the plot from the time quite a few years ago when I read it to him before.
I have to say that in some ways these books are even more fun to read the second or third time. You can see all the places the author planted clues of what will be revealed later. You appreciate her genius all the more.
My favorite of the three books is still The Queen of Attolia. But this follow-up was also truly wonderful. There were a few plot threads left hanging—I very much hope this means she's planning to write more about the adventures of Eugenides. I would definitely love to read more.
To quote my son, as we were reading this book, "Eugenides rocks!"
You can find this review on the main site at:  www.sonderbooks.com/Teens/kingofattolia.html