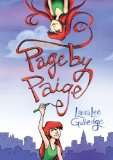 Page by Paige
by Laura Lee Gulledge
Amulet Books, New York, 2011.
Starred Review
2011 Cybils Finalist
2011 Sonderbooks Stand-out: #3 Other Teen Fiction
I'm not usually a big graphic novel fan, but I loved this one enough to list it as my #3 Sonderbooks Stand-out in Other Teen Fiction.
Page by Paige tells that old story of a high school girl in a new town — in this case, New York City — but Paige Turner (Her parents are both writers.) is an artist. This book is Paige's sketchbook, and she draws about her experiences.
Paige's art is what makes the book outstanding. She draws expressionistic abstract images that beautifully express how it feels to be an outsider in a new place, or feeling at odds with your parents, or afraid to show anyone your sketchbook.
I also really love the part where Paige falls for someone. Now this is first love how I remember it — feeling thrilled when your knees touch under the table, for example. It's innocent and beautiful and joyous.
Paige and her friends also conduct some performance art as "Agents of Whimsy." This reminded me of the story in The Plain Janes. In Page by Paige, there are no negative repercussions, though; it just adds to Paige's experience of art.
Another thing I love about this book is that it fully uses the graphic novel form. I'm not a big graphic novel fan, but this book could not be written any other way, and the drawings add so much to the experience of the book. Laura Lee Gulledge so perfectly captures feelings with her expressionist drawings.
This is a happy book, and an uplifting one, but it's definitely not fluff.
Find this review on Sonderbooks at: www.sonderbooks.com/Teens/page_by_paige.html
Disclosure: I am an Amazon Affiliate, and will earn a small percentage if you order a book on Amazon after clicking through from my site.
Source: This review is based on a library book from the Fairfax County Public Library.