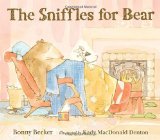 The Sniffles for Bear
by Bonny Becker
illustrated by Kady MacDonald Denton
Candlewick Press, 2011. 32 pages.
Starred Review
2011 Sonderbooks Stand-out: #8 Picture Books
Mouse and Bear are back! Honestly, I love every book Bonny Becker and Kady MacDonald Denton write. And Bear and Mouse have developed definite characteristics, to which they remain true.
Here's how this installment begins:
"Bear was sick, very, very sick.
His eyes were red. His snout was red.
His throat was sore and gruffly.
In fact, Bear was quite sure no one
had ever been as sick as he.
"One morning, Bear heard a tap, tap, tapping on his front door.
'Cub in!' he rasped."
Those who know Mouse and Bear will not be at all surprised when Mouse doesn't appreciate the gravity of Bear's situation.
After some false starts, Mouse does help Bear get upstairs to bed and does help him write his will. When Bear finally sleeps and gets better, it's his turn to tend to Mouse.
This book will be most enjoyed by those who have already read the earlier books, because the fun comes from the interaction between fastidious, overdramatic Bear and the always cheery Mouse. This is also a perfect book to read to someone who isn't feeling well. It will show that you fully understand the gravity of the situation.
Find this review on Sonderbooks at: www.sonderbooks.com/Picture_Books/sniffles_for_bear.html
Disclosure: I am an Amazon Affiliate, and will earn a small percentage if you order a book on Amazon after clicking through from my site.
Source: This review is based on a library book from the Fairfax County Public Library.