Last Thursday, I posted about how happy I was to receive a copy of Der Orden der Seltsamen Sonderlinge direct from the author, James Kennedy. The first thing both he and I noticed about the translation was that it appeared much longer than the original book, The Order of Odd-Fish.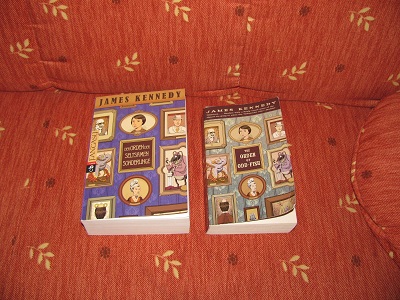 Now, I suspect this is simply because German takes more letters to say the same thing. James expressed the suspicion that perhaps they had gotten carried away and added episodes when translating (which you must admit would be quite interesting).
It occurred to me that I did have an easy method at hand to test my hypothesis. You see, when we moved to Germany, my very first purchase was a copy of one of my very favorite books, Momo, by Michael Ende, in its original language, German.
That did start a trend. Here are some of the books in my German collection (though none of these have "Sonderling" in the title!):
I especially liked getting books originally written in German, which is why you'll find Drachenreiter (Dragonrider) and Tintenblut (Inkblood, translated Inkheart), by Cornelia Funke, and Die unendliche Geschichte (The Neverending Story), by Michael Ende, as well as the original version of my childhood beloved book Heidi. Der kleine Prinz (The Little Prince) was given to me by my German landlady as a favorite book of hers (with cassette to listen to it), and I purchased Püh der Bär and Stolz und Vorurteil (Winnie-the-Pooh and Pride and Prejudice) because it's so much fun to have such great classics in another language. Besides, I have the originals just about memorized, so I can easily understand the German.
Then there's ourHarry Potter collection:
We own the American edition, British edition, and German edition of all of the first six books. (And I definitely need to make a trip back to Europe to purchase the seventh in the UK and in Germany.)
As for the first book:
My husband did a lot of traveling with the Air Force Band, and soon buying a copy of Harry Potter and the Philosopher's Stone in the local language became a souvenir to get excited about. We have Book One in American, British, German, Hebrew, Japanese, Bulgarian, Czech, Chinese, and French. Okay, I've only actually read the editions in American, British, German, and French. But the others are fun to look at!
So, this seems like a pretty good sample to me. Do Germans need more pages to tell a story?
We already found the page counts for James Kennedy's book:
The Order of Odd-Fish: 403 pages.
Der Orden der Seltsamer Sonderlinge: 511 pages.
Just for fun, let's check all the editions of Harry Potter Book One first:
Harry Potter and the Philosopher's Stone (original): 223 pages.
Harry Potter and the Sorcerer's Stone: 309 pages. (Looks like the Americans dragged this one out.)
Harry Potter und der Stein der Weisen: 335 pages.
Hebrew version: 321 pages.
Japanese version: 191 pages.
Bulgarian version: 264 pages.
Harry Potter a Kámen mudrc? (Czech version): 285 pages.
Chinese version: 462 pages.
Harry Potter à L'École des Sorciers (French version): 232 pages.
Interesting. They are totally different lengths, and German is the second longest, beaten only by Chinese. (I'm surprised that Chinese and Japanese are so different, but it looks like Chinese doesn't use as much of each page. Maybe they start a new line for a new paragraph?)
How about the rest of the Harry Potters?
Harry Potter and the Chamber of Secrets (original): 251 pages.
American version: 341 pages.
Harry Potter und die Kammer des Schreckens: 352 pages.
Harry Potter and the Prisoner of Azkaban (original): 317 pages.
American version: 435 pages.
Harry Potter und der Gefangene von Askaban: 448 pages.
Harry Potter and the Goblet of Fire (original): 636 pages.
American version: 734 pages.
Harry Potter und der Feuerkelch: 767 pages.
Harry Potter and the Order of the Phoenix (original): 766 pages.
American version: 870 pages.
Harry Potter und der Orden des Phönix: 1021 pages.
Harry Potter and the Half-Blood Prince (original): 607 pages.
American version: 652 pages.
Harry Potter und der Halbblutprinz: 656 pages.
Those books are certainly consistent! Interesting how much longer the American books are than the British ones. It definitely looks like less words on a page. But the Germans still manage to be longer, every time.
Let's check some more books translated from English to German:
Winnie-the-Pooh: 148 pages.
Püh der Bär: 157 pages.
Pride and Prejudice (my fancy edition): 367 pages.
Paperback at the library: Also 367 pages.
Stolz und Vorurteil: 452 pages.
The Little Prince (Okay, this one was originally in French): 97 pages.
Der Kleine Prinz: 125 pages.
Maybe it's different if the book starts out in German, so let's check those:
Momo (original): 285 pages.
Momo (fancy American hardback, with illustrations): 227 pages.
Die unendliche Geschichte: 428 pages.
The Neverending Story: 384 pages.
Heidi (original): 333 pages (with illustrations).
Heidi (American paperback): 198 pages.
Tintenblut: 707 pages.
Inkheart: 576 pages.
Drachenreiter: 448 pages.
Dragon Rider: 536 pages.
What's this? My last example is the only one where the English version turns out longer. Looking inside, it does seem to pretty clearly have less words on a page.
Now, those math nuts among us could have further fun determining the percentage each German book is longer than the English one, but it's getting late. Despite the one very last exception, it looks like it is perfectly normal for German translations to contain more pages than English ones. So I will still look sharp for cleverly concealed additions, but I think this is simply a case of needing more space. I would be very interested to find out if the German books also take longer to read. I suspect that would be much closer, but that one, I'm not going to sample.
Now, having sized up the task, in my next installment, I will tackle Kapitel Eins.