It takes awhile to post a new page of Sonderbooks Standouts, so I've decided to blog about one category at a time. I will post the pages and reviews as soon as possible, but for now I can post the lists.
I'm starting with Fiction for Adults, simply because that was my shortest list. I also have more of the books already reviewed and/or posted.
The decisions in ranking were still difficult, though. Two books I read seemed resoundingly, lastingly good, and it's hard to rank them. The Name of the Wind, by Patrick Rothfuss, is written in lyrical prose and immediately pulls you in. It's an epic that you can compare to Tolkien with a straight face. However, when I read the sequel, The Wise Man's Fear, although it is still incredibly well-written, I did get annoyed that the story just stopped at a random place and definitely isn't finished. I also suffered some excessive eye-rolling at the interlude involving the character learning about sex from a woman of faery whose beauty drives ordinary men mad. Though I have to admit, even that part was written expertly and compellingly.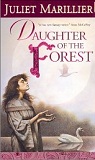 However, another series I read completely captivated me. Even though I would probably give Patrick Rothfuss the prize for outstanding work of fantasy literature (assuming that when he finishes up, he keeps up the quality), with Sonderbooks Standouts, I'm rating how much I enjoyed reading them. So I have to give my first place honor to Daughter of the Forest, by Juliet Marillier. Like so many of my favorites, it was a fairy tale retelling, and was so incredibly well done, weaving in Irish History and seeming totally realistic.
I always like to separate Fantasy (my favorites) from the other books I read. So here are two lists of 2011 Sonderbooks Standouts in Fiction for Grown-Ups:
Fantasy:
1. Daughter of the Forest, by Juliet Marillier
2. The Name of the Wind, by Patrick Rothfuss
3. Son of the Shadows, by Juliet Marillier
4. The Snow Queen, by Mercedes Lackey
5. Child of the Prophecy, by Juliet Marillier
6. The Wise Man's Fear, by Patrick Rothfuss
Other Fiction:
1. State of Wonder, by Ann Patchett
2. Minding Frankie, by Maeve Binchy
3. The Pericles Commission, by Gary Corby
4. I Am Half-Sick of Shadows, by Alan Bradley
5. The Saturday Big Tent Wedding Party, by Alexander McCall Smith