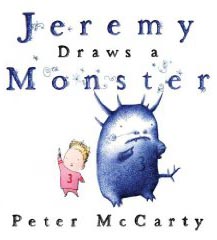 Jeremy Draws a Monster
by Peter McCarty
Henry Holt and Company, New York, 2009. 36 pages.
Starred Review
Sonderbooks Stand-out 2010: #1 Picture Books
Here's another picture book I've tested out at Storytime with great success. The monster definitely gets the kids' attention, and the plot is short and sweet enough to keep it.
Jeremy lives on the third story of an apartment building. He never goes out.
One day, he draws a monster. The monster is not very nice. He demands that Jeremy draw more things for him, and doesn't even say thank you.
The monster goes out, and Jeremy thinks he is free of him, but the monster comes back in the night and takes over Jeremy's bed.
Jeremy's solution for dealing with the monster is ingenious and just right. After he sees the monster off, the neighborhood children ask Jeremy to play with them, and he does.
I've been following School Library Journal's Heavy Medal blog, discussing Newbery Medal possibilities, and the moderators suggested some picture books. Technically, a picture book can win the Newbery Medal on the basis of its text. However, I wasn't impressed by the text of the two books suggested.
Rereading Jeremy Draws a Monster to write this review, I realize that I've found a candidate! The pictures are delightful and do add to the story, but you can read the text alone as well. In simple and spare language, it presents a plot — a troublesome monster that must be dealt with. There is character growth: Jeremy goes from isolation to playing with the neighborhood children. Even the setting of the third-story apartment plays a part. The style is spare and the theme of a lonely child finding human companionship is inspiring.
I confess, I still prefer that Newbery winners have stories that are more fleshed out, and I'd rather see this book win a Caldecott Honor. (The artwork is excellent, too, and I still think of the Caldecott for picture books.) But I want to point out that this book tells a poignant story in only 225 words.
Find this review on Sonderbooks at: www.sonderbooks.com/Picture_Books/jeremy_draws_a_monster.html
Disclosure: I am an Amazon Affiliate, and will earn a small percentage if you order a book on Amazon after clicking through from my site.