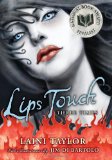 Lips Touch
Three Times
by Laini Taylor
with illustrations by Jim Di Bartolo
Arthur A. Levine Books (Scholastic), 2009. 265 pages.
National Book Award Finalist, 2009.
Starred Review
Sonderbooks Stand-out 2010: #8 Fantasy Teen Fiction
Laini Taylor is an amazing writer. Her imagination is extraordinary, as she here takes off from different mythologies to create three amazing worlds.
Lips Touch: Three Times is a collection of three stories, all of which involve a kiss in some way. All also involve something fantastic and haunting. Before each story is a sequence of pictures by Jim Di Bartolo showing something that happened before the story began.
The first story, "Goblin Fruit," is about wanting. The beginning gives you a clue how entrancing these stories are:
"There is a certain kind of girl the goblins crave. You could walk across a high school campus and point them out: not her, not her, her. The pert, lovely ones with butterfly tattoos in secret places, sitting on their boyfriends' laps? No, not them. The girls watching the lovely ones sitting on their boyfriends' laps? Yes.
"Them.
"The goblins want girls who dream so hard about being pretty their yearning leaves a palpable trail, a scent goblins can follow like sharks on a soft bloom of blood. The girls with hungry eyes who pray each night to wake up as someone else. Urgent, unkissed, wishful girls.
"Like Kizzy."
The second story, "Spicy Little Curses Such as These," takes us into the depths of Hell, where an Englishwoman barters for lives. She's allowed to save all the children in a village if she will curse a newborn little girl. The girl will have the most beautiful voice ever to slip from human lips, but anyone who hears it will immediately fall down dead.
Anamique gets along, not challenging the curse, until she falls in love. The consequences of her love and her first kiss are surprising, perhaps not what the demon expected.
The third story, "Hatchling," also draws you in with the first paragraph:
"Six days before Esme's fourteenth birthday, her left eye turned from brown to blue. It happened in the night. She went to sleep with brown eyes, and when she woke at dawn to the howling of wolves, her left eye was blue. She had just slipped out of bed when she noticed it. She was headed to the window to look for the wolves — wolves in London, of all impossible things! But she didn't make it to the window. Her eye flashed at her in the mirror, pale as the wink of a ghost, and she forgot all about the wolves and just stared at herself."
This story develops an intricate mythology, telling of the soulless Druj, who can take the shapes of animals or humans, but always have pale blue eyes. They like to inhabit humans, and Esme's mother has a history with them, a history about which Esme is going to learn much more.
In this book, you'll be drawn into three worlds, left thinking about them long after.
Find this review on Sonderbooks at: www.sonderbooks.com/Teens/lips_touch.html
Disclosure: I am an Amazon Affiliate, and will earn a small percentage if you order a book on Amazon after clicking through from my site.