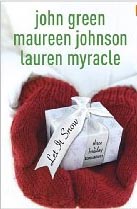 Let It Snow
Three Holiday Romances
by John Green, Maureen Johnson, and Lauren Myracle
Speak (Penguin), 2008.  352 pages.
Starred Review
http://www.maureenjohnsonbooks.com/
Okay, I'm in the mood for holiday reading, and this book of three intertwined holiday romances was completely delightful.  I began reading during a dentist appointment, and found when I got home, my recovery demanded further reading.
The three stories are all teen romances, delightfully told.  John Green's story, told from the guy's perspective, is in the middle, and makes a nice subtle change from the other two, but I loved all three.
Maureen Johnson tells the  first story, where Jubilee Donegal is on a train to visit her grandparents in Florida instead of at her boyfriend's big family Christmas Eve Smorgasbord.  Her parents were arrested in a riot over collectible Flobie Santa Village buildings, and Jubilee got sent to Florida.  Unfortunately, she doesn't get far before the train is stopped by snow.  She's in a car with a group of cheerleaders off to a cheerleading competition and a cute guy obsessed with trying to call his girlfriend (and failing).  What can she do except go out through the snow and try to get to the Waffle House she sees across the highway?
What follows is a delightful story of adventure and eye-opening revelations and, yes, romance.
John Green's story involves a guy and two friends trying to get through the snow to the Waffle House, where their friend, the store manager, is telling a hysterical tale about a group of cheerleaders needing "help" working on cheers.  He needs them to bring a Twister game, but if they take too long, someone else's friends might beat them to it.  Once again, things don't happen as they expect.
In Lauren Myracle's story, we see the ex-girlfriend of the guy on the train, despairing because he didn't show up and he didn't even call.  Meanwhile, her friends need her to do a little something for them — and they don't want to hear that there's been another "crisis."
The stories dovetail beautifully.  They are all funny and sweet and wonderfully entertaining.  Definitely recommended holiday reading!
Find this review on the main site at: