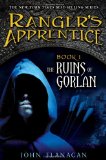 The Ruins of Gorlan
by John Flanagan
performed by John Keating
Recorded Books, 2006.
One of my co-workers told me she enjoyed listening to this series, and I'd meant to read it ever since it had been a Summer Reading Program selection at our library back in 2008. When it made Betsy Bird's Top 100 Chapter Books List and I was also looking for my next audiobook to listen to, I finally tackled it.
Now, I found the plot a little predictable and a little stereotypical, but I still enjoyed it. And since the series stretches on and on, I am sure it will go beyond the coming-of-age story in this first volume.
Will has grown up in a castle as a ward of the lord of the castle. All he knows about his father was that he was a hero, and Will imagines him a mighty knight. All his life, he has dreamed of going to battle school.
But Will is too small for battle school. When the mysterious Ranger picks Will out as his apprentice, Will is less than thrilled. But then he learns skills that show him sometimes those with size and brute strength are not the most powerful.
Besides covering the beginning of Will's training, this book takes us through his first involvement in a conflict with the evil that is building up to attack the kingdom. I can see why so many kids are avidly following this series. This very first one is still popular, but we also get people for looking for the newest volume, and every book along the way. I suspect I will become one of them.
Find this review on Sonderbooks at: www.sonderbooks.com/Childrens_Fiction/ruins_of_gorlan.html
Disclosure: I am an Amazon Affiliate, and will earn a small percentage if you order a book on Amazon after clicking through from my site.
Source: This review is based on a library audiobook from the Fairfax County Public Library.
Disclaimer: I am a professional librarian, but I write the posts for my website and blogs entirely on my own time. The views expressed are solely my own, and in no way represent the official views of my employer or of any committee or group of which I am part.
Please use the comments if you've read the book and want to discuss spoilers!