I'm doing a series featuring those authors with 2012 Sonderbooks Stand-outs who have had Sonderbooks Stand-outs before. In other words, my Favorite Authors.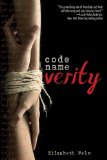 Four authors on this year's list have had a total of 5 Sonderbooks Stand-outs. I'll begin with the one who wrote my favorite book of 2012, Elizabeth Wein, author of Code Name Verity.
I discovered Elizabeth Wein ten years ago in 2003. In my 2003 Sonderbooks Stand-outs, her book A Coalition of Lions, was #1 in Children's and Young Adult Historical Fiction. Like Code Name Verity, A Coalition of Lions is historical fiction, but it is set in ancient Aksum (Ethiopia) and features the daughter of King Arthur. Technically, this was part of a series, but I thoroughly enjoyed reading it first.
But that meant I had to read her others. The next two books, coming before and after A Coalition of Lions were my only two Young Adult Historical Fiction books listed on my 2004 Sonderbooks Stand-outs. I rated the book that follows, The Sunbird, at #1, and the book that came before, The Winter Prince, at #2.
In my 2007 Sonderbooks Stand-outs, I included her next story about Telemakos, The Lion Hunter. It was #3 in Historical Fiction for Teens, but that was the year when I didn't get all of my Stand-outs reviewed. In fact, the sequel to The Lion Hunter, The Empty Kingdom was the only book of hers I've read that didn't make that year's Stand-outs. And this year she certainly is back among my favorites.
I want to highlight here that Code Name Verity was no aberration. I was happy to hear lots of people discussing one of my favorite authors this year! If you haven't read her Aksum novels, I highly recommend going back and rectifying that situation!