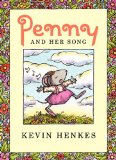 It's been three months since I last posted on the Top 100 Writers and Illustrators from Betsy Bird's Polls at her Fuse #8 Blog.
I've recently been posting features about my own Stand-out Authors – people who had books on my 2012 Sonderbooks Stand-outs and previous Stand-outs lists as well. Doing those feature posts was fun, and it reminded me that I'd been neglecting the Top 100 Authors and Illustrators.
And it so happens that Kevin Henkes, our #5 Top Picture Book Author and Illustrator also appeared in my last Stand-out Authors post.
Here's how the vote went:
Total points: 229
Number of votes: 41
All of these votes were for books he both wrote and illustrated, so he's #5 in both categories.
He was an author whose votes were distributed among many well-loved books.
He had three books in the Top 100:
#11 Lilly's Purple Plastic Purse
Points: 89
Votes: 14
#25 Kitten's First Full Moon
Points: 59
Votes: 9
This one had one comment Betsy didn't mention: "Beautiful" — from Kyle Wheeler
#66 Chrysanthemum
Points: 29
Votes: 7
Quotations about this book:
"Love all the books by this author" — Allison
"This was a close tie with Lilly's Purple Plastic Purse but my kids like this one better and I only wanted to include one title per author, if possible" — Rachel (Even in Australia)
Mathematically savvy readers will quickly see that this doesn't account for all of Kevin Henkes' points. Here are the other books that got votes:
Old Bear 16 points, 3 votes
Comment: "My favorite picture book from the last decade, and quickly becoming one of my all-time favorites." — Hotspur Closser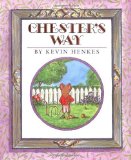 Chester's Way 15 points, 3 votes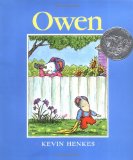 Owen 15 points, 3 votes
Comment: "Great way to introduce compromise to kids" — Linda Westphal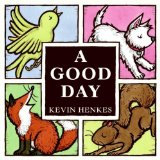 A Good Day 3 points, 1 vote
Little White Rabbit 3 points, 1 vote
Comment: "A series of mishaps end happily" — Carol Melichar
Of course, one of the wonderful things about Kevin Henkes is that he's still writing. I put a picture of Penny and Her Song at the top of this post, because, you watch, I believe in a future poll Penny will be represented.