It's time for Sonderling Sunday! — That time of the week when I play with language by looking at the German translation of children's books. Today, I'm going to flip it around and look at the English translation of a German children's book, Michael Ende's Die unendliche Geschichte, known and loved in English as The Neverending Story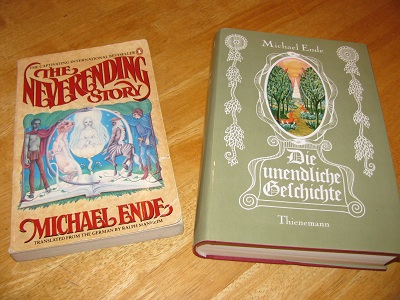 First, the stats: The original German version is 428 pages long, but it's a much nicer, more lavishly illustrated version than my English paperback, which is 377 pages long. Still, the English version did at least give a full page to each starting chapter illustration, even though they're in black and white instead of two-color as in my lovely German edition. And they did preserve the A-to-Z nature of the illustrations.
But right on the title page, we find a difference! The German edition has a subtitle!
Die unendliche Geschichte
Von A bis Z mit Buchstaben und Bildern versehen von Roswitha Quadflieg
This translates to: "from A to Z with letters and pictures provided by Roswitha Quadflieg."
You see, the full-page illustration at the front of each chapter has a letter in the illustration, progressing from A to Z. The English edition merely says "Illustrated by Roswitha Quadflieg."
The beginning of the book is about Bastien Balthazar Bux, and does not have the Illuminated Letters or any heading except the backwards words on the door of the bookshop.
In the English version, this is:
"rednaeroC darnoC lraC
skooB dlO"
— except mirrored as well as backwards. (Carl Conrad Coreander: Old Books)
In the German version, it is:
TAIRAUQITNA
rednaeroK darnoK lraK :rebahnI (ANTIQUARIAT: Inhaber: Karl Konrad Koreander)
While talking about the rain rolling over the letters on the door, we learn
"ornate letters" = geschnörkelten Buchstaben
In the context, it made me think of snorkeling letters! And when I look in Google translate, they call it "scrolled." Perhaps that's where a snorkel gets its name — from that curve on the end.
**Okay, my Sonderling Sunday was interrupted by finding out that my offer was accepted on a new home!**
And you know what? Now I'm too hyper to focus at all! I'm so excited!
Mind you, this place went on the market yesterday, and I loved it by the pictures. But was it really so good? I looked at it today, and it was even better than the pictures. My favorite part? A whole wall filled with windows and a lake view. I didn't even know that it was possible to find a place near my church with a lake view!
But four people had already seen it, and there was already an offer. So my realtor recommended offering full price. I did, and they accepted my offer! What a whirlwind of a day!
So next time, I will continue beyond the snorkel-shaped letters! But I think that's all for now! Good night!