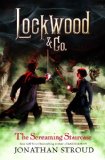 Lockwood & Co.
Book One
The Screaming Staircase
by Jonathan Stroud
Disney Hyperion Books, New York, 2013. 390 pages.
Starred Review
What a marvelous adventure this book provides! I'm not surprised — Jonathan Stroud is the author of the Bartimaeus books, so I knew he's a brilliant writer. This new series is wholly different, but as clever and as much fun. The Screaming Staircase is the first of a new series, but the story is entirely complete. Instead of tantalizing the reader with unfinished plot threads, "Book One" is a happy promise that we will see more of Lucy and Lockwood and George.
For decades, Britain has been plagued by the Problem.
If you look in old newspapers, like George does all the time, you can find mentions of scattered ghostly sightings cropping up in Kent and Sussex around the middle of the last century. But it was a decade or so later that a bloody series of cases, such as the Highgate Terror and the Mud Lane Phantom, attracted serious attention. In each instance, a sudden outbreak of supernatural phenomena was followed by a number of gruesome deaths. Conventional investigations came to nothing, and one or two policemen also died. At last two young researchers, Tom Rotwell and Marissa Fittes, managed to trace each haunting to its respective Source (in the case of the Terror, a bricked-up skull; in that of the Phantom, a highwayman's body staked out at a crossroads). Their success drew great acclaim; and for the first time, the existence of Visitors was firmly imprinted on the public mind.

In the years that followed, many other hauntings started to come to light, first in London and the south, then slowly spreading across the country. An atmosphere of widespread panic developed. There were riots and demonstrations; churches and mosques did excellent business as people sought to save their souls. Soon both Fittes and Rotwell launched psychic agencies to cope with the demand, leading the way for a host of lesser rivals. Finally the government itself took action, issuing curfews at nightfall, and rolling out production of ghost-lamps in major cities.

None of this actually solved the Problem, of course. The best that could be said was that, as time passed, the country got used to living with the new reality. Adult citizens kept their head down, made sure their houses were well stocked with iron, and left it to the agencies to contain the supernatural threat. The agencies, in turn, sought the best operatives. And, because extreme psychic sensitivity is almost exclusively found in the very young, this meant that whole generations of children, like me, found themselves becoming part of the front line.
Lucy Carlyle has recently joined the smallest such agency in London, Lockwood & Co., run by Anthony Lockwood, with help from George Cubbins. They operate without adult supervision, and they all have psychic abilities. The book opens with a case that goes rather wrong — in finding the Source of a manifestation, Lucy inadvertently burns down the client's house, though they do find a body bricked up in the wall, which explains the haunting.
Besides a rollicking adventure tale, as the three fight to contain Visitors, there is also a mystery (Who killed the Visitor?) and of course a deadline, as they must pay for the client's house before their agency is disbanded. The first haunting is just a taste for their later adventure in one of the most haunted houses in England.
There's real danger facing the agency. No one who has faced the Screaming Staircase at night has ever lived to tell about it. The ghosts haunting England, are, for the most part, distinctly unfriendly.
And of course we have the fantasy of kids running their own agency. After all, adults lose any psychic sensitivity. The interaction between the three is half the fun of the book, as they work together to get the job done.
You've got adventure, suspense, mystery, humor, ghosts, and even swordplay. (Silver-tipped rapiers are one of the best ways to protect yourself from ghosts.) I thoroughly enjoyed every moment spent reading this book. I'm going to be watching to see if it comes out on audio, because the only thing that would make it better would be getting to experience it all over again with a British accent reading it to me.
jonathanstroud.com
LockwoodandCo.com
disneyhyperionbooks.com
Find this review on Sonderbooks at: www.sonderbooks.com/Childrens_Fiction/screaming_staircase.html
Disclosure: I am an Amazon Affiliate, and will earn a small percentage if you order a book on Amazon after clicking through from my site.
Source: This review is based on a library book from Fairfax County Public Library.
Disclaimer: I am a professional librarian, but I maintain my website and blogs on my own time. The views expressed are solely my own, and in no way represent the official views of my employer or of any committee or group of which I am part.
Please use the comments if you've read the book and want to discuss spoilers!