It's time for Sonderling Sunday! That time of the week when I play with language by looking at the German translation of children's books — or in this case, looking at the English translation of a German children's book. Sort of a Very Silly Phrasebook for Travelers.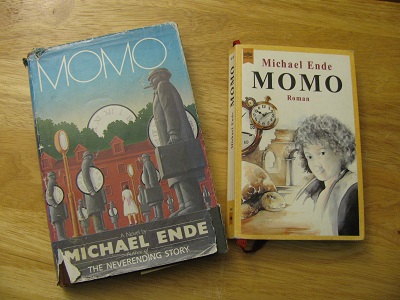 Tonight I want to go back to one of my favorite children's books of all, originally written in German, Momo, by Michael Ende. Last time I looked at Momo, we left off toward the end of Chapter 3, on Seite 36 auf Deutsch, page 22 in English.
[And before I get started, I'd like to give a shout-out to Alex Baugh, who was at KidLitCon this weekend. She blogs at Randomly Reading, and I learned that she was a German literature major and reads Sonderling Sunday! I didn't know anyone did besides James Kennedy and me! 🙂 Glad to meet you this weekend, Alex!]
We were right in the middle of a dramatic (imaginary) ocean voyage:
Meter für Meter kämpfte sich die >Argo< , alle Maschinen auf Volldampf, gegen die Urgewalt dieses Taifuns vorwärts.
= "With all engines running full ahead, the Argo inched her way forward against the elemental might of the storm."
("Meter by meter battled itself the Argo, all engines on full steam, against the elemental power of the typhoon forward.")
Machinisten und Heizer = "engineers and stokers"
Kesselräume = "boiler rooms"
Übermenschliches = "superhuman efforts"
dicken Tauen = "stout ropes"
grausamen Schlingern und Stampfen des Schiffes
= "the ship's violent pitching and tossing"
innerste Kern des Wirbelsturms = "innermost eye of the storm"
"innermost core of the cyclone [whirl-storm]"
Auf der Meeresoberfläche, die hier spiegelglatt war, weil alle Wellen einfach von der Gewalt des Sturmes flachgefegt wurden, tanzte ein riesenhaftes Wesen.
= "Gyrating on the surface of the sea, which had been ironed flat as a pancake by the sheer force of the sorm, was a huge figure."
("On the seas-over-surface, that here mirror-smooth was, because all waves simply from the violence of the storm flat-swept were, danced a gigantic being.")
ein Brummkreisel von der Größe eines Berges
= "a mountainous humming top"
("a humming top of the size of a mountain")
This is better in German:
Ein Schum-Schum gummilastikum!
= "A Teetotum elasticum!"
allersten Zeiten der Erdentwicklung
= "the earliest phase of life on earth"
Es ist ein Jammer!
= "What a shame"
Das einzige Exemplar = "The sole surviving specimen"
Kontrafiktions-Kanone = "antifriction gun"
(Google: "Contraindications-Fiction Cannon" Is this a case where the translator changed the meaning to a similar-sounding word? It is, after all, an imaginary creature, so an Anti-Fiction Gun might work.)
Riesenkreisel = "giant spinning top"
Stichflamme = "tongue of flame"
Zwillingsrohr = "twin barrels"
leuchtende Geschoß = "flaming missiles"
Es ist zwecklos! = "It's no use." ("It is purposeless.")
Erste Steuermann = "first mate"
Wandernden Taifun = "Traveling Tornado"
Überlieferungen = "traditions"
wahrer Kern = "grain of truth"
bestimmte Tonschwingungen = "certain sonic vibrations"
Nice big words in this section! Appropriate since a child is pretending to be an important scientist.
Lebensbedingungen = "mode of existence"
höchst eigentümlichen Gesang = "most peculiar song"
Donnernd schlossen sich die Wassermassen über ihm.
= "With a thunderous roar, the sea closed over it."
patschnaß = "soaked" ("smack-wet")
I'll finish with the last sentence of chapter 3:
So wie bei Momo konnte man sonst nirgends spielen.
= "The games they played with Momo were more fun than any others."
("So as with Momo could one otherwise nowhere play.")
That's it for tonight! It's good to be back! May you avoid any Whirl-storms before we come back to Momo!