I spent Friday and Saturday of this weekend at KidLitCon in Baltimore!
KidLitCon is a gathering of bloggers who focus on children's books. The location rotates between the East Coast, the Midwest, and the West Coast. I've been to three previous KidLitCons. With it happening so close to me, I had to attend this year!
I went to a variety of interesting panels and author talks. I'll list some gems I gathered in my notes.
One thing I liked from the panel on putting Science and Math into novels: They can use novels to show kids that failing is an important part of science.
Kids' curiosity will never change, so they are interested in science.
In the Middle Grade Horror panel, it was fun to hear Dan Poblocki interact with Mary Downing Hahn, whose books he loved to read when he was in middle school.
This picture is of Mary Downing Hahn and Ronald L. Smith, who wrote Hoodoo.
Mary Downing Hahn thinks that scary books appeal to middle grade students because you get to have a scary adventure while safe in your own home.
The next panel I attended was moderated by my friend Susan Kusel (whom I first met at KidLitCon 09). It was about Visual Storytelling and featured some outstanding illustrators.
From left to right, at the table we have Kevin O'Malley (illustrator of many classic picture books), Minh Le (book blogger and author of an upcoming picture book), Shadra Strickland (author and illustrator of Sunday Shopping among others), Matt Phelan (author and illustrator of The Storm in the Barn and Bluffton), and Susan Kusel, who was on last year's Caldecott committee.
(It's always fun, when experiencing an illustrator panel, to imagine each illustrator as one of their own illustrations. It's funny how easy that is to do!)
The conversation between the panelists was a lot of fun. They talked about the kind of paper they like, the different media they use, and things about the book illustrating process.
When Matt Phelan is given a manuscript to illustrate, he first figures out the visual tone, then matches the media to the story.
The illustrators together had a message to reviewers: Be open to different things. Realize that art doesn't have to be ultrarealistic to be skilled. Be careful of over-valuing one style.
Recognize your own bias. Art is like music: It's an emotional response.
Here are the panelists posing for a photo at the end: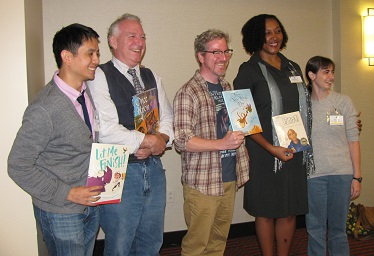 Then we had lunch. I got to have lunch with some fellow Cybils panelists — and Minh Le from the picture book panel. But I took a picture of Susan Kusel in animated conversation with Kevin O'Malley. He saw me coming!
I complimented the picture he was doodling, and he gave it to me.