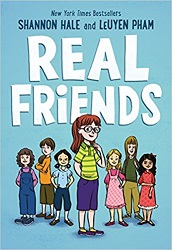 Real Friends
A True Story About Cool Kids and Crybabies
by Shannon Hale
illustrated by LeUyen Pham
First Second (Roaring Brook Press), May 2017. 218 pages.
Starred Review
Shannon Hale, one of my favorite authors, has written a graphic novel memoir! And the illustrator is LeUyen Pham, who illustrates The Princess in Black books! I'm afraid there's no way I wouldn't like this book.
As if that weren't enough, I heard LeUyen Pham speak about the book at ALA Midwinter Meeting — and when she signed my Advance Reader Copy, she sketched a cartoon of me!
But even if all those things weren't true, this book is brilliant, and I feel sure it will be popular. It's a true story of navigating friendships, being part of "The Group," being bullied by an older sibling and others, and just wanting to have friends who actually like you.
Shannon grew up in a Mormon family; I grew up in an evangelical family. I'm afraid the panel I liked the most is from Shannon's imagination, with her sitting, sad and alone, in the foreground, with "The Group" rejoicing in the background that she's gone. Sitting next to Shannon is Jesus, and he says, "Well, I like you." "Thanks, Jesus," says Shannon. A kid tries to take comfort in the love of Jesus. But friends are important.
Shannon was already destined to be a writer, as evidenced by all the scenes where she's imagining. She'd write stories with her friends — but really it was Shannon doing the writing.
The way things resolve is done well. In 5th grade, Shannon's in a mixed 5th and 6th grade class, which doesn't include most of "The Group" she's been with for years. She makes some new friends who appreciate her for who she is — and it gives her a good perspective for dealing with The Group.
I don't think I need to say any more. A graphic memoir about friendship and sisters. This will be every bit as popular as Raina Telgemeier's Smile and Sisters. And it's marvelously done! Anyone who's ever had friends — or ever felt left out — will relate.
squeetus.com
leuyenpham.com
firstsecondbooks.com
Find this review on Sonderbooks at: www.sonderbooks.com/Childrens_Nonfiction/real_friends.html
Disclosure: I am an Amazon Affiliate, and will earn a small percentage if you order a book on Amazon after clicking through from my site.
Source: This review is based on an advance reader copy I got at ALA Midwinter Meeting – and had signed by the illustrator with a caricature of me.
Disclaimer: I am a professional librarian, but I maintain my website and blogs on my own time. The views expressed are solely my own, and in no way represent the official views of my employer or of any committee or group of which I am part.
What did you think of this book?