I've now posted 12 years of Sonderbooks Stand-outs, and this year I noticed there were a lot of repeats from previous years.
Now, I don't think I'm biased in a bad way. Yes, I expect good things when I pick up these authors' books, but they consistently turn out good ones. Some of them can't seem to write a book I don't like.
So, looking at only the authors who appeared in the 2012 list, I thought it would be fun to look back at their previous books that were Sonderbooks Stand-outs.
I'm going to start with Shannon Hale, because she has 3 books on the 2012 Stand-outs, and she also has more total books on all the Stand-outs lists than any other one of this year's authors, with 15 books.
How, you may well ask, did Shannon manage to get more books on my Stand-outs lists than she has published? Well, her books tend to be stand-outs both in print form and as audiobooks.
Let's do a retrospective.
In 2003, Shannon published her first book, The Goose Girl. It was my favorite book of the year, and #1 in Young Adult Fantasy.
In those days, there weren't as many book blogs. I e-mailed Shannon to tell her I'd named her book a Sonderbooks Stand-out, and we struck up an e-mail friendship. Judging by how much I love all her books, it's obvious we are kindred spirits.
2004 Sonderbooks Stand-out: #4 in Fantasy for Young Adults was Enna Burning, the second of the Books of Bayern.
2005 Sonderbooks Stand-out: #9 in Young Adult Fantasy was Princess Academy. I was so happy when it won a Newbery Honor, even though I'm a little more partial to the Books of Bayern myself.
2006 Sonderbooks Stand-out: #2 in Teen Fiction was River Secrets (edged out only by The King of Attolia, by Megan Whalen Turner)
2007 was Shannon's first year with multiple Sonderbooks Stand-outs. I got to listen to an audiobook of The Goose Girl (#2 in Audiobooks), and she wrote my favorite book of all of hers, Book of a Thousand Days, which was #1 in Teen Fantasy Fiction. And she broke into adult books with Austenland, which was #2 in Romance Fiction.
She topped her record in 2008 with 4 Sonderbooks Stand-outs:
Three of them were Audiobooks:
Book of a Thousand Days was #1.
Enna Burning was #4.
Princess Academy was #6.
And Rapunzel's Revenge was #2 Graphic Novel of the year.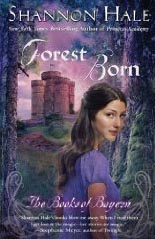 2009 Sonderbooks Stand-outs had another of the Books of Bayern, with Forest Born at #3 in Fantasy Teen Fiction.
After 2009, Shannon had twins, so there's no surprise she had a few years off my lists. In the meantime, I got to meet her at the National Book Festival. I was so happy when she knew who I was as soon as I said my name!
Perhaps it's getting where I'm biased about Shannon's books because I like her so much, but I became her friend because of her books, and I'm not going to stop telling people how wonderful I think her books are simply because I think she's wonderful, too.
And this year she's back on my 2012 Sonderbooks Stand-outs three times!
Midnight in Austenland completely hit a sweet spot for me. It's for adults, a Jane Austen take-off, and has a divorced heroine seeing the truth about how valuable she is. It was my favorite adult book of the year.
And then Palace of Stone was #6 in Teen Fiction, and I finally read Shannon's one book that I hadn't read yet, The Actor and the Housewife, which was #6 in Other Fiction.
I think it's safe to call Shannon Hale one of my favorite authors! If you haven't read all her wonderful books, consider this a To Be Read List!