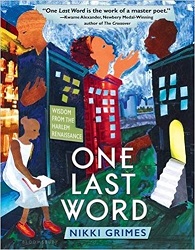 One Last Word
Wisdom from the Harlem Renaissance
by Nikki Grimes
Bloomsbury, 2017. 120 pages.
This book is a tribute to poets of the Harlem Renaissance, and contains fourteen poems by poets from that time. The poems are illustrated with artwork by Cozbi A. Cabrera, R. Gregory Christie, Pat Cummings, Jan Spivey Gilchrist, Ebony Glenn, Nikki Grimes, E. B. Lewis, Frank Morrison, Christopher Myers, Brian Pinkney, Sean Qualls, James Ransome, Javaka Steptoe, Shadra Strickland, and Elizabeth Zunon.
But the heart of the book is the Golden Shovel poems Nikki Grimes has written in tribute to the Harlem Renaissance poets.
The idea of a Golden Shovel poem is to take a short poem in its entirety, or a line from that poem (called a striking line), and create a new poem, using the words from the original…. Then you would write a new poem, each line ending in one of these words.
Nikki Grimes does this with the poems she's selected and included. She either uses one line or the entire poem, and uses those words as the ending of the lines of her own poem.
For example, the first poem selected is "Storm Ending," by Jean Toomer, and the first line of the poem is "Thunder blossoms gorgeously above our heads," and that first line is printed in bold. Then Nikki Grimes wrote a poem, "Truth" that uses these six words as the last word in each of the six lines.
It's a lovely way of paying tribute to the original work. This book would be good simply as an anthology. But with Nikki Grimes' poems playing off the original poems, and the work of this distinguished collection of artists, this book is something much more.
nikkigrimes.com
bloomsbury.com
Find this review on Sonderbooks at: www.sonderbooks.com/Childrens_Nonfiction/one_last_word.html
Disclosure: I am an Amazon Affiliate, and will earn a small percentage if you order a book on Amazon after clicking through from my site.
Source: This review is based on a library book from Fairfax County Public Library.
Disclaimer: I am a professional librarian, but I maintain my website and blogs on my own time. The views expressed are solely my own, and in no way represent the official views of my employer or of any committee or group of which I am part.
What did you think of this book?