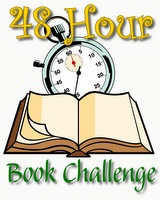 It's time for a 48-Hour Book Challenge, Independence Day Edition!
But Sondy, you may ask, why are you doing a book challenge when you're no longer on the Newbery committee and no longer need to spend every spare minute reading books?
Well, when I was talking with friends at ALA Annual Conference about my Newbery experience, I realized that what I miss most is being able to make reading my top priority. I miss having an excuse to set aside everything else and read.
I'm also frustrated because when I don't make reading a priority — books just aren't getting read as quickly! There were so many books I wanted to get to after the Newbery was done — and they're languishing, still unread. (Also, books for adults are just so darn long!)
And then I thought, well, why don't I make reading a priority, anyway?
Another thing that happened during ALA Annual Conference was that I received the Allie Beth Martin Award from the Public Library Association for "extraordinary range and depth of knowledge about books and distinguished ability to share that knowledge." That was nice validation for my website, Sonderbooks.com, full of book reviews, which I've been writing since 2001. During my last month reading for the Newbery, I actually posted one review almost every day — because I wanted to catch up on posting all my pre-2018 reviews. But since then? So few have gotten posted.
Now something got set aside during the Newbery, and it's that I've always wanted to be a published writer. But of course I wasn't going to try while I was on the Newbery committee because of conflict of interest. Now it's time to embrace writing again. Beginning with my blog and writing up my time at ALA Annual Conference. But I have two other blog series going that I want to continue and that have been languishing — A Universalist Looks at the New Testament, about Christian Universalism, and Transcending: They'll Know Us By Our Love, about the Bible and transgender people. I'd love for either one or both of these series to eventually become a book, but for now I have a lot more to write on the blog.
So there you have it, in my post-Newbery life, I want a fresh focus on Reading, Writing, and Reviewing.
I am therefore adjusting the rules of the 48-Hour Book Challenge. Instead of just counting reading time, I will also count time writing and reviewing. In fact, my plan is to alternate an hour of each one. The challenge comes in to see how much of the next 48 hours I can fill with Reading, Writing, and Reviewing. I'll also keep track of pages read, books completed, words written, and reviews posted.
Oh, the other factor is I'm almost disappointed I don't ever go to the Capitol Fourth on the National Mall, because my boycotting it today loses any meaning. But I am boycotting it today. Being given Friday off as well as Independence Day makes this the perfect time to set aside 48 hours for a Book Blitz!
I began at 11:15 on July 4th. I will finish at 11:15 am on Saturday. Here goes!