The final event I attended at ALA Annual Conference 2019 in DC was the presentation of the Michael Printz Awards. These are the top young adult books of the year. The only one I read in my Newbery reading was the winner, Poet X. I hope to fix that situation soon!
For the Printz Awards, even the Honor winners give speeches. First up was Elana K. Arnold, who wrote the book Damsel.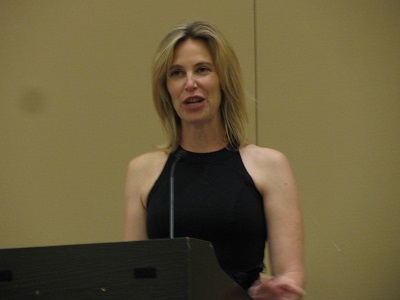 Her book was an exploration of embodied female rage.
It's an original fairy tale. The prince must rescue a damsel and kill a dragon.
Damsel is a book about how patriarchy hurts everyone.
All of her books end with a girl stepping alone, head high, into her future.
It's a book about boundaries.
As children, we operate inside borders. The teen years are when we notice the walls. Do we keep them or tear them down?
Examining real world problems through a fantasy lens.
She's pushing down walls along with other writers.
Next up was Deb Caletti, Honor winner for A Heart in a Body in the World.
This book is about a marathoner who runs across the country after a horrible crime against her.
The author just made the same journey by plane, Seattle to DC.
She didn't know all the places, but she knew her character's heart.
She was a kid who needed books. They told her, "I see you. I understand you. Keep going."
Then she repeated her childhood and chose a sometimes scary partner.
After some time, she went from voiceless to having a voice.
Then she read in the news about a kid who committed violence against his "dream girl" who broke up with him.
She wanted to tell what she knows about the story, about the slow progression of guilt and fear.
Misogyny sneaks in, barges in, rages in.
It's confusing — we're told we're responsible.
Are we powerful? We can make men do awful stuff! Or are we powerless?
She's heartbroken that the book is called timely. It's been timely for way, way too long.
She still believes in the power of one voice and in the voice of her readers.
Then came Mary McCoy, who won Honor for I, Claudia.
She works at Los Angeles Public Library. It's a book about politics and power.
This is about a girl who leaves her quiet life and grabs power.
Nixon's people ratfucked their opponents. But fifteen years earlier, they'd done the same thing as students at USC. Corrupt politicians practice.
When she first wrote the book, she thought it was a tragedy that Claudia went into politics.
After 2016, she's not sure anyone has the luxury of staying out of politics.
She would vote for Claudia — because she's there to make a difference.
As people who work in libraries, we give a lot of fucks.
We know something about being a force for good in the universe.
And the final speaker was Elizabeth Acevedo, who won the Michael L. Printz Award for Poet X.
She's talking about inscriptions.
When she was in high school, a teacher put Heaven, by Angela Johnson, into her hands. It was the first time she read about a teen father in a book. She had questions, and her teacher told her to write to Angela Johnson.
She didn't answer, but then a book about that teen father was published — The First Part Last. It was inscribed to Elizabeth Acevedo and the students at her school. It was the first time she saw her name in print. That book won the Printz Award.
Later, as a teacher, she just tried to get the kids to love reading.
A kid asked her, "Where are the books about us?" She pulled authors who write about people of color. They read those and kept asking, "What's next?"
That's why she wrote Poet X.
She wasn't going to make accommodations.
That's why the inscription — to that student. This girl gets to see her name in print.
She's thankful the family she married into supported her going to grad school in creative writing.
Her book ends: "Isn't that what a poem is? A lantern glowing in the dark."
She hopes young people will allow themselves to be opened up.
Her role as a writer is to empower other people to write.
We're here and deserve to be here.
We are still here and we can still heal.