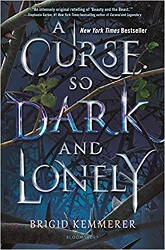 A Curse So Dark and Lonely
by Brigid Kemmerer
Bloomsbury, 2019. 484 pages.
Starred Review
Review written July 29, 2019, from a library book
A Curse So Dark and Lonely is a retelling of "Beauty and the Beast," but it's an expansive retelling, only borrowing the barest outline of the fairy tale.
The book begins with a scene in the fantasy world of Emberfall, then a scene on the streets of Washington, DC. In Emberfall, we meet Rhen, a cursed prince. The only member of his guard left is the captain, Grey. His family, servants, and all the rest of his guard are dead, killed by the beast he becomes at the end of each season. The girl who was this season's prospect for breaking the curse has fled, as all the rest before her. A new season is beginning, in a perpetual time loop.
In DC, Harper is a lookout for her brother Jake. He's been coerced into doing bill collection work, to make up for what their father had owed and to try to afford medicine for their mother, who is dying of cancer. Jake is taking too long, but while Harper waits, she sees a man abducting a young woman. Even though she doesn't want to attract attention, and even though she has a limp from her cerebral palsy, she can't just let him do this right in front of her, so she attacks him with a rusty tire iron.
But he's surprisingly good at defending himself. When Harper thinks he's about to attack her in return, she ends up suddenly transported into a fantasy world. She's not kindly disposed to the prince she meets, either. And she's worried about her mother and brother. But when she tries to escape, it doesn't take long to figure out that something magical is happening, since the world outside the castle grounds is covered in snow.
I wasn't too impressed with the story as it began, but became more and more so as it continued. All the characters have lots of depth. Rhen isn't just a shallow prince who's won over by this girl. He's actually learned much from his initial mistake and from the horror of knowing he's killed his family. He's taken steps to protect his people. Too bad the enchantress continues to return to torment him. In fact, she's decided that Harper is his last chance.
Harper, too, is a character with depth. She has cerebral palsy, but doesn't let that stop her. She does some learning during the course of the book. For one thing, she learns that impulsive promises she makes to the people of Emberfall will have consequences. I do like the way the author has thought of repercussions of the curse that aren't in the original fairy tale. For example, a neighboring monarch is going to want to get a piece of the kingdom whose rulers seem to have disappeared.
There are some twists thrown into the ending – twists that are not resolved at all. I wish there'd been some evidence somewhere on the book jacket that this is only Book One. But the basic story of the fairy tale is indeed resolved in a satisfying way. I do want to know what happens next, though, so I'll be watching for the sequel.
brigidkemmerer.com
bloomsbury.com
Find this review on Sonderbooks at: www.sonderbooks.com/Teens/curse_so_dark_and_lonely.html
Disclosure: I am an Amazon Affiliate, and will earn a small percentage if you order a book on Amazon after clicking through from my site.
Source: This review is based on a library book from Fairfax County Public Library.
Disclaimer: I am a professional librarian, but I maintain my website and blogs on my own time. The views expressed are solely my own, and in no way represent the official views of my employer or of any committee or group of which I am part.
What did you think of this book?