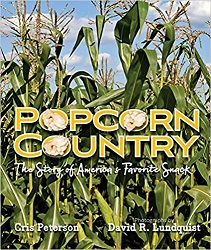 Popcorn Country
The Story of America's Favorite Snack
by Cris Peterson
photographs by David R. Lundquist
Boyds Mills Press (Highlights), 2019. 32 pages.
Review written February 8, 2020, from a library book
Fair warning: This book will make you hungry for popcorn. I'm a big fan of popcorn, so I couldn't resist learning about it in this picture book.
I didn't realize that popcorn is a special kind of corn grown specifically to pop.
There are four kinds of corn grown in the United States: dent corn, also called field corn, sweet corn, flint corn, and popcorn.
We see those other examples, then we learn how popcorn is grown, harvested, and processed, with photographs all along the way.
There are some interesting spreads when it tells how samples are tested for pop-ability. And then the popcorn is loaded on trucks and ships. I hadn't realized that the United States produces nearly all the world's popcorn.
There are more interesting facts at the back. The main body of the book itself is a lovely way to tell young elementary school kids where there favorite snack comes from.
crispeterson.com
boydsmillspress.com
Find this review on Sonderbooks at: www.sonderbooks.com/Childrens_Nonfiction/popcorn_country.html
Disclosure: I am an Amazon Affiliate, and will earn a small percentage if you order a book on Amazon after clicking through from my site.
Disclaimer: I am a professional librarian, but the views expressed are solely my own, and in no way represent the official views of my employer or of any committee or group of which I am part.
What did you think of this book?