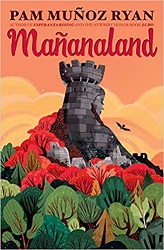 Mañanaland
by Pam Muñoz Ryan
Scholastic Press, 2020. 247 pages.
Review written March 6, 2020, from a library book
Starred Review
2020 Sonderbooks Stand-out:
#11 Children's Fiction
This lovely book tells the story of a boy growing into the legacy of his family of helping people in need.
Here's how the book begins:
Somewhere in the Américas, many years after once-upon-a-time and long before happily-ever-after, a boy climbed the cobbled steps of an arched bridge in the tiny village of Santa Maria, in the country of the same name.

He bounced a fútbol on each stone ledge.

In the land of a hundred bridges, this was his favorite. When he was only a baby, Papá, a master stonemason and bridge builder, had carved his name on the spandrel wall for all to see

MAXIMILIANO CÓRDOBA
Max is twelve years old and ready this year to join Santa Maria's famous fútbol team. He also ready for more responsibility and more freedom, like going to another town for a free fútbol clinic with his friends, but his Papá is overprotective and won't let him go. Papá is also full of secrets, and never talks about Max's mother, who left when Max was a baby.
In this book, Max discovers many family secrets and is placed in a situation where he must rise to the occasion and follow the family tradition of helping others.
I like the little blend of fantasy in this book, with a beginning like a fairy tale. The setting is fictional, but there's a country troubled by war and oppression over the nearby border. Max and his grandfather like to tell stories, though his Papá is more of a realist and doesn't seem to believe in happy endings any more. But Max discovers that some of the stories are hiding important truths.
I also like the tower standing over the town, a tower like a giant queen from a chessboard. The picture on the cover added to Max's thinking of her as a giant lady watching over the town and its people.
This book had just the right blend of mystery, danger, adventure, and hope.
Find this review on Sonderbooks at: www.sonderbooks.com/Childrens_Fiction/mananaland.html
Disclosure: I am an Amazon Affiliate, and will earn a small percentage if you order a book on Amazon after clicking through from my site.
Source: This review is based on a library book from Fairfax County Public Library.
Disclaimer: I am a professional librarian, but the views expressed are solely my own, and in no way represent the official views of my employer or of any committee or group of which I am part.
What did you think of this book?