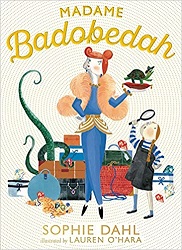 Madame Badobedah
by Sophie Dahl
illustrated by Lauren O'Hara
Walker Books, 2020. First published in the United Kingdom in 2019. 52 pages.
Review written August 8, 2020, from a library book
Starred Review
Madame Badobedah (rhymes with ooh-la-la) is a picture book, but it's on the long side and has three parts, so it's more for young elementary school students than the usual preschool picture book crowd. Those who can settle into the story will be completely charmed, as I was.
Our narrator, a little girl named Mabel, lives in a Bed and Breakfast, the Mermaid Hotel. The book begins on a day when they get a new guest, an old lady who comes with two dogs, two cats, a tortoise on a cushion, and 32 suitcases. She gets installed in the Mermaid suite on the top floor.
Mabel, who likes to do a little spying, quickly determines that Madame Badobedah (the name Mabel has for her) is a villainess on the run after her jewel heists. After all, the bag Mabel carried for her was so heavy, she knew it contained gold bars. Madame Badobedah doesn't go out much, and Mabel does some surveillance through the keyhole.
But one day, Madame Badobedah invites Mabel in, and they have tea together. These visits become more common, until Mabel is even willing to share the secret of the Mermaid Room.
We end up with a charming and imaginative story about an intergenerational friendship, one which brings joy to both participants.
Find this review on Sonderbooks at: www.sonderbooks.com/Picture_Books/madame_badobedah.html
Disclosure: I am an Amazon Affiliate, and will earn a small percentage if you order a book on Amazon after clicking through from my site.
Source: This review is based on a library book from Fairfax County Public Library.
Disclaimer: I am a professional librarian, but the views expressed are solely my own, and in no way represent the official views of my employer or of any committee or group of which I am part.
What did you think of this book?