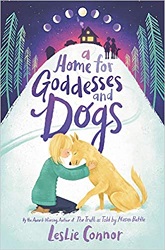 A Home for Goddesses and Dogs
by Leslie Connor
Katherine Tegen Books, 2020. 385 pages.
Review written August 17, 2020, from a library book
Starred Review
A Home for Goddesses and Dogs is another heart-warming story by the author of The Truth According to Mason Buttle, a book I read during my Newbery year and loved in so many ways.
As the book begins, Lydia Bratches-Kemp, an eighth grader who's been home-schooled, is setting out for a new home after her mother's death. She gets to stay with her Aunt Brat and her wife Eileen on a farm in Connecticut owned by Elloroy, who had gotten too old to keep up with things. To add to her new family, shortly after Lydia arrives, Brat and Eileen decide to adopt a dog. Lydia's not a dog person, so it takes her some time to get accustomed to the unruly and exuberant yellow dog they choose.
The book is about making friends, making a home, and making a new family. Lydia also has things to deal with in her memories of her mom, and about her dad who left them when her mom got sick. Lydia's mom was an artist, and used to make goddesses when something came up they had to deal with, such as the Goddess of the Third Heart, made when her mom got passed up for the third time on the heart transplant list.
Lydia's new school is small. She's skeptical, but some girls offer to show her around the neighborhood, and she makes some connections that surprise her.
This is a feel-good story about finding home.
leslieconnor.com
harpercollinschildrens.com
Find this review on Sonderbooks at: www.sonderbooks.com/Childrens_Fiction/home_for_goddesses_and_dogs.html
Disclosure: I am an Amazon Affiliate, and will earn a small percentage if you order a book on Amazon after clicking through from my site.
Disclaimer: I am a professional librarian, but the views expressed are solely my own, and in no way represent the official views of my employer or of any committee or group of which I am part.
What did you think of this book?