Saturday morning, I woke up after having gotten far too little sleep. I'd discovered the night before that any restraint I thought I'd have completely vanished when faced with free books. It also happened that Saturday morning would have some of the author signings I was most looking forward to. What's more, although there were some programs that sounded interesting, HarperCollins was hosting a Fall Preview of its new books from 10:00 to 11:00 — which was NOT when the authors I wanted to see were schedule. So you see, I was doomed to visit the exhibits.
I did see Laini Taylor and get her new book signed, but thought since I'd accosted her the night before, I wouldn't make her pose for a photo again.
Yes, for those of you keeping score at home, I had already shipped Daughter of Smoke and Bone unsigned the night before. Does anyone local want the unsigned copy before I bring it to my library co-workers? They told me if I started reading it that night, I wouldn't be able to stop until I finished. I believed them, so am waiting for a night when I can start reading early!
I also met Marilyn Johnson, who so kindly sent books to the Fairfax County Board of Supervisors in support of libraries. I got a signed copy of her book for myself this time. She said they've added an Epilogue that talks about the budget fights to keep libraries open. She's so nice in person, too!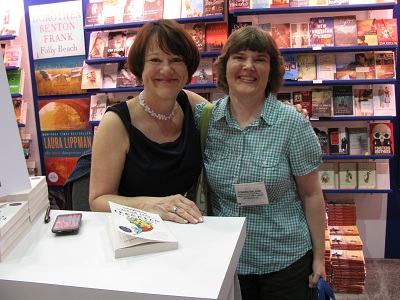 And when I spotted some Library shirts at Stop Falling's booth, I couldn't resist! Especially the sleep shirt that said, "Oops! I bought another Pile of Books!" It seemed so frightfully appropriate! After all, that's exactly how it happens, right?
I'm planning to wear this one to work tomorrow: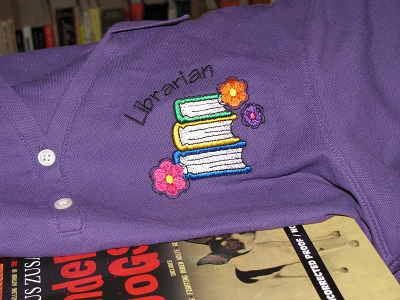 And this one might be too warm for summer, but I like it very much: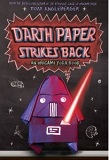 I also spotted Tom Angleberger, author of The Strange Case of Origami Yoda, and was given an origami puppet of Darth Paper, to celebrate the upcoming publication of Darth Paper Strikes Back.
Then I went to the HarperCollins Book Buzz, about adult books coming out in the Fall. It was fully as bad for me as I feared — now I want to read almost ALL the books. And I was able to pick up Advance Reader Copies of several to add to my bag.
Let's see. Some I'm going to look for that I didn't snag yet:
They're republishing Agatha Christie's books, including a republishing of her wonderful Autobiography that includes a CD of Agatha Christie herself reading some of her books. They are publishing a new biography by an Agatha Christie scholar, John Curran.
Defensive Wounds, by Lisa Black, sounded very intriguing. The author is a forensic scientist, and the editor said that one of the strengths of this book is the relationship between the detective and her daughter.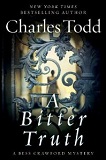 A Bitter Truth, by Charles Todd, won me over when the editor said that this mystery is not gruesome, and has more tea than dead bodies. She said that this book features a "kind" detective, who gets herself on the suspect list. I want to read it!
Historic Conversations is a set of CDs of seven interviews Jacqueline Kennedy did in 1964, with an accompanying book, Jacqueline Kennedy, by Michael Beschloss. It sounds completely amazing.
My Life, Deleted, was described as a love story, and also a true story of a man who hit his head and was afflicted with profound retrograde amnesia, the worst case on record. He has to get to know his wife all over again. A positive marriage story.
First You Try Everything, by Jane McCafferty, is NOT a positive marriage story. When the protagonist's husband tells her he wants a divorce, first she tries everything, in a crazy way. This sounded frightfully familiar to me. They said the book is funny, and I'm intrigued to know if I will like it or be appalled if they show she's healed because she gets married again. Anyway, I have to read it.
The Flight of Gemma Hardy, by Margot Livesey, is a rewriting of Jane Eyre.
The Scrapbook of Frankie Pratt, by Caroline Preston, was described as a good YA Crossover. The historical story sounds fun, and it's all done in scrapbooking.
So, after the Book Buzz, I went back to the exhibits, grabbed as many galleys as I could, and purchased a copy of Chime to be signed by Franny Billingsley.
By that time, I was heavily weighed down, so I decided to again ship the books. Then I walked to the Margaret Edwards Luncheon, which was in the hotel next to the Convention Center. Unfortunately, I didn't realize that "next to the Convention Center" still meant very far away indeed. So I was late, but did get to eat and listen to the excellent speeches. I will post about Saturday afternoon tomorrow.
Here's a picture of the books that I shipped on Saturday: