I've already blogged about my first two days of adventures at ALA Annual Conference, including meeting authors, the Margaret Edwards Award Luncheon, a program on Readers' Advisory Research and Trends, and the movie "Library of the Early Mind."
The third day of ALA Annual Conference 2011 in New Orleans dawned sunny and HOT. I only needed to get across the street to the YA Author Coffee Klatch at 9:00. It's kind of like speed dating, with 8 authors having about 5 minutes at your table. There's luck involved in which authors you get, but most authors who attend have won a YALSA award or had their books on the Best Fiction for Young Adults list. You get to meet them, and they pitch their latest book, and you end up having a bunch more books you want to read. (Just what I needed!)
Jay Asher opened the session with a speech to everyone, in which he applauded that Libraries match the right book with the right teen. (We don't have to worry about parents not being able to find a book for their teen in the library!)
Then the mad dash around the tables began. Our first author was Claudia Gray, promoting her new book Fateful. This is the hundredth anniversary of the sinking of the Titanic, and her book is love story with werewolves on the Titanic. It was fun to hear about all the research she had done, even figuring out which lifeboat her characters would have gotten on. I definitely want to watch for this one. I'm not a big fan of werewolf stories, but I loved all the research she'd done, and you could tell she'd had a lot of fun with her premise.
Next was Ilsa Bick. Unfortunately, I forgot to take a picture in the short time she was there. Her new novel is called Ashes, a post-apocalyptic story, and the first of a trilogy. She convinced me to get an ARC of the book as she talked about the real science she put into it. She's former military and has done survival training. In her book, she's using the post-apocalyptic settings to explore big questions — with a lot of life-and-death adventure thrown in.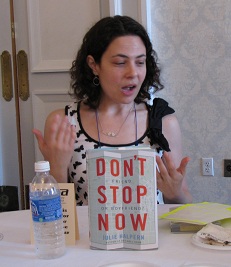 Then Julie Halpern talked about her books, including the newest, Don't Stop Now. She told that it's based on a childhood friend who actually faked her own kidnapping and told no one but Julie. So Julie was questioned by the FBI — and lied to them! She said she never did find out why her friend faked the kidnapping, so the book situation is intended to be different. Despite how serious that sounds, she said this is a funny road-trip novel. I know I'm intrigued.
James Klise was next, talking about his book, Love Drugged. It's set in a future where they have a drug to "cure" same-sex attraction. He said his book is also a comedy. Things don't work out as simply as the main character hopes.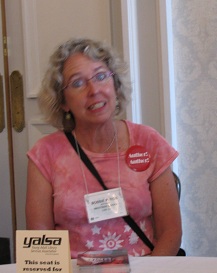 Bobbie Pyron is not only an author, but also a Librarian. (Yay!) She's written The Ring about an angry 15-year-old girl who takes up boxing. She finds her confidence not through a relationship, but through herself and building her skills and through friends. Because of having a boxer on the cover, boys also find this book and enjoy it.
Joseph Lunievicz's book, Open Wounds, sounded particularly interesting. Despite the sword on the cover, this is not a fantasy novel, but a historical novel set in 1930s New York. The main character loves swashbuckling movies and wants to be an actor — and he gets a fencing instructor. The big issues of the book include dealing with loss, and there's plenty of action with the fencing. It sounds like a very interesting book.
Then came my old acquaintance, Franny Billingsley. (I guess I decided that since I'd already had her pose for a picture, I wouldn't ask again.) She talked about her brilliant book, Chime. She said when she began it, it was going to be a story about a sister rescuing her baby brother, who had been replaced by a changeling. Those who have read Chime will realize that the result has nothing about that! But that was her process of finding the story.
Our final author of the morning was Steve Hamilton, an author for adults who won an Alex Award — for adult books that appeal to teens. His award-winning book, The Lock Artist, features a 17-year-old kid skilled at cracking safes. He never talks in the entire book.
After the authors visit the tables, it's fun to watch the whole crazy crew get their pictures taken. Most of my pictures came out blurry (They wouldn't hold still!), but I did get a few:

You can pick out the authors I met. I'm not sure of many other names, except that it's Lauren Myracle sitting on Maureen Johnson's lap.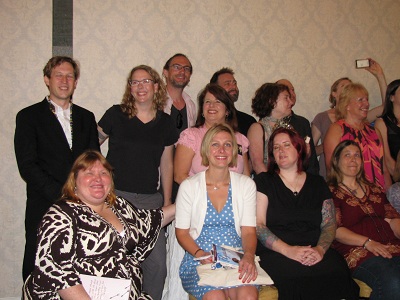 I know more names from this side of the crowd. On the far left, that's James Kennedy, whom I met last year at the YA Coffee Klatch. Next to him are Printz Honor Winners A. S. King and Marcus Sedgwick. Franny Billingsley is there in the second row, fourth from the left. And the adorable Lucy Christopher, another Printz Honor Winner, is the second from the left on the first row.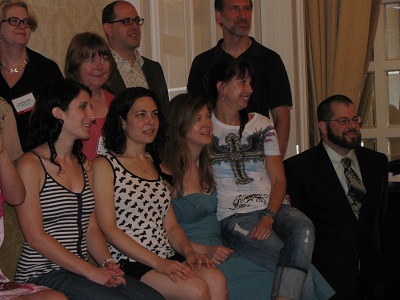 Here's a more focused picture of the stellar authors on the right side of the crowd having fun.
I should perhaps stay away from this event in the future. The authors made me want to read all of their books, and I really don't need more books I want to read! But it's always fun to meet authors, and hear some background to their stories, so I'm glad I attended this event again.
After the YA Coffee Klatch, I headed back to the Convention Center for more programs and, yes, more book signings. I'll blog about those tomorrow.