Most years, I have a clear favorite category (YA Fantasy), but not this year! This year I had books I totally loved in all the categories, and I'm so thankful I have a precedent of making categories so I don't have to rank them against each other.
In Children's Fiction, I didn't have such a hard time with the ranking, at least the top of the list. Although I adored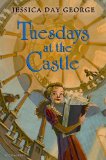 Okay For Now, and it's my pick for the Newbery Medal, my definite most-loved and most-enjoyed Children's book this year was Tuesdays at the Castle, by Jessica Day George. What can I say? It completely won my heart.
I have to add that Stonewall Hinkleman and the Battle of Bull Run had to be included, because it helped
convince me NOT to go to the 150th Anniversary and Reenactment of the First Battle of Bull Run, for which I had tickets, on a day when the weather was over 100 degrees and I'd had a headache for three weeks. Since I had a stroke the very next day, I'm absolutely convinced that was a fabulous (possibly life-saving!) decision. Besides, it's a really fun book!
So here are my favorite Children's Fiction books that I read in 2011:
1. Tuesdays at the Castle, by Jessica Day George
2. Okay for Now, by Gary D. Schmidt
3. The Great Wall of Lucy Wu, by Wendy Wan-Long Shang
4. Kat, Incorrigible, by Stephanie Burgis
5. The Chronicles of Harris Burdick, illustrated by Chris Van Allsburg
6. Stonewall Hinkleman and the Battle of Bull Run, by Michael Hemphill and Sam Riddleburger
7. Clementine and the Family Meeting, by Sara Pennypacker
Here are the other lists I've posted so far:
Fiction for Grownups
Teen Fiction
Last Year's Standouts