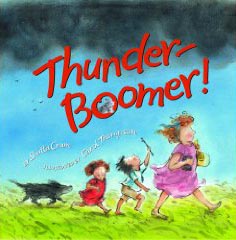 Thunder-Boomer!
by Shutta Crum
illustrated by Carol Thompson
Clarion Books (Houghton Mifflin Harcourt), 2009. 32 pages.
Starred Review
I should have reviewed this book in the summer, when I first read it, and when I meant to review it. And that's simply a reflection of how behind I am on getting reviews written.
This book is a positively wonderful expression of a summer storm. The illustrations and the text combine with the onomatopoetic expressions written in the pictures (Who's responsible for that? The author or the illustrator or both together?) to transport you into a summer storm, complete with thunder and lightning and hail.
The book starts with an oppressively hot summer day. Mother fans herself with her hat ("Swish, swish, swish") and puts her feet in the pond next to Tom who's slapping his feet against the surface ("plap, plap, plop"), and says, "We need a thunder-boomer."
We see the wind pick up. It catches the clothes on the line. The dog catches Dad's underwear! The sky darkens ominously. I love the way Carol Thompson captures the way the colors of the day dramatically change as the storm approaches and leaves. Together, they catch the sounds of the storm, the drama and the emotions of the storm.
At the end, they discover a gift from the storm, a little kitten whose purr is like the voice of the storm.
This is truly a beautiful book. Okay, it's a little more appropriate for late summer than for early winter, but the story is nice any time of year.
If I were choosing books for consideration for next year's Caldecott, I'd definitely hope this one gets considered for an Honor for the beautiful way the watercolors evoke the power and spirit of the stormy day, with the rain even bleeding out of the picture areas into the white space, like water leaking into the house. (Oh, except reading the note about the illustrator, I learn that she lives in England, so she wouldn't be eligible. Well, this book is a truly distinguished work of art.)
A wonderful cozy adventure of waiting out a thunderstorm in a nice safe shelter.
Find this review on Sonderbooks at: www.sonderbooks.com/Picture_Books/thunder_boomer.html
Disclosure: I am an Amazon Affiliate, and will earn a small percentage if you order a book on Amazon after clicking through from my site.