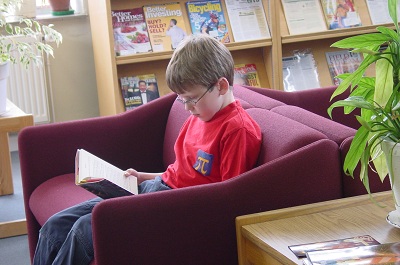 No sooner did I start this blog series — Librarians Help! — than the people with the really interesting questions started going to my colleagues! Seriously, the questions I took this week tended toward the routine, but I figure it's just a small case of Murphy's Law.
Again, I helped a whole lot of people find books, such as:
— A novel for a man to read next
— A Rainbow Magic Fairies book
— A study guide for the AP Psychology test
— Books by Daniel Amen
— Books on painting
— Books for teaching first graders about maps
— The No. 1 Ladies' Detective Agency
— Books on recycling for a preschool class
Other things were mostly routine, like booking meeting rooms and signing people up for programs, and putting books on hold. Virginia taxes were due this week, so all of us did help several people make copies of the forms. I helped someone print a page of the 1940 census. During my time in the Virginia Room it was pretty quiet this week, but in my own genealogy, I traced a line back to someone who helped found Harvard.
One of the more satisfying interactions was helping a person get a library card, and then find materials for learning English, and sign up for English tutoring.
I was called an "angel" by someone who called to see if his co-worker could get a Serbo-Croatian dictionary for a test the next day. This ended up involving checking out a reference book, but since it was for someone who works in law enforcement in a building near us and would be returned the next day, and since there is not a lot of demand for that title, I was able to make sure it happened.
As I blogged last weekend, I went to the US Science Festival on my day off and wore my prime factorization sweater. Once math geeks (my tribe!) found out about it, my site got a flood of traffic to the post where I explain how the sweater works.
But this made me think, again, about how making this sweater, to me, is something wonderfully fitting for a librarian. Because, to me, librarianship is about the fun side of learning, the self-propelled side. When I taught college math, I had to focus on trying to barrel through the syllabus before I ran out of semester. As a librarian, I can say, "Isn't this cool?" and help provide ideas and resources for people to take off from there.
When I was a Youth Services Manager (and I will be again — some day), I did a program based on the ideas behind the sweater. I showed the math behind the sweater and explained how number bases work and how you can make codes based on that. Then we used foam shapes to make their own messages using these ideas.
It's the same thing with spreading a love of reading. We can encourage the playful and fun side of learning. We don't force anyone to learn anything. But we have all kinds of information available, and we're all about helping you learn whatever you want to learn, whatever age or race or economic status you happen to fall into.
Spread the word! Librarians help!