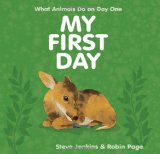 My First Day
What Animals Do on Day One
by Steve Jenkins & Robin Page
Houghton Mifflin Books for Children, Boston, 2013. 32 pages.
Starred Review
It's no secret that I'm a big fan of Steve Jenkins' work, having named three of his books Sonderbooks Stand-outs. I love the way he combines amazingly detailed and realistic cut-paper artwork with scientific facts about the world.
My First Day gets extra bonus points for being way too cute. The book features twenty-two specific types of animals — for example, not just a tiger, but a Siberian tiger, not just a turtle, but a leatherback turtle — and tells us what they do on their very first day.
The range is wide. A capybara can swim and dive when it's just a few hours old. A polar bear cub sleeps in a snow den with its mother until Spring. A blue wildebeest trots along with its mother, because its herd is on the move.
One thing I love about this book is the pacing and pictures and subject matter are all perfect for preschoolers or early elementary school kids. Yet it's serious nonfiction, and fascinating information that I didn't even know until I read the book. What a wonderful way to get a child hooked on nonfiction!
Here's an example set of pages, to give an idea of the gentle pacing:
On my first day, my mother held me close so I wouldn't drift out to sea.

I dozed on her belly while she floated in the waves.

sea otter

On my first day, I raced to the water.

The beach was a dangerous place, and I was on my own as soon as I hatched.

leatherback turtle
Combined with the gentle text, imagine detailed, realistic, yet adorable illustrations of the baby in question with or without its parent, as appropriate. And to cap it all off, the last baby featured is the polar bear cub, who tells us, on its first day, "I fell asleep."
For older, inquiring minds, there are end notes that tell a little more about each creature, so you don't have to end on that cozy, perfect-bedtime-story finish. This book will work for a wide range of ages, but will be especially perfect for getting the youngest listeners hooked on nonfiction.
I'm posting this review today in honor of Nonfiction Monday, hosted today by Pierogies & Gyoza.
Find this review on Sonderbooks at: www.sonderbooks.com/Childrens_Nonfiction/my_first_day.html
Disclosure: I am an Amazon Affiliate, and will earn a small percentage if you order a book on Amazon after clicking through from my site.
Source: This review is based on a library book from the Fairfax County Public Library.
Disclaimer: I am a professional librarian, but I maintain my website and blogs on my own time. The views expressed are solely my own, and in no way represent the official views of my employer or of any committee or group of which I am part.