It's time for Sonderling Sunday! That time of the week when I play with language by looking at the German translation of children's books. I've always found phrase books funny. Imagine situations where you really need to say those things. So, why not start with a situation, a story, in fact, and look at how they would translate?
Today, for the first time, I've brought my laptop out on my balcony, and I'm enjoying all the bird song. Life is good!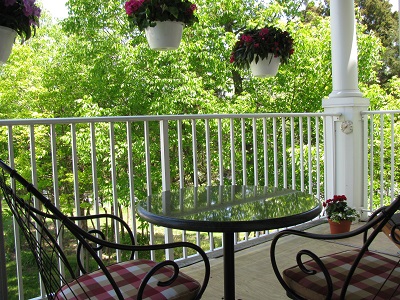 Today it's back to the book that inspired Sonderling Sunday, Der Orden der Seltsamen Sonderlinge, that is, The Order of Odd-fish, by James Kennedy. You do not have to have read the book to enjoy this unusual "phrase book." In fact, it might be extra fun to try to imagine a story that uses these phrases. I bet you can't come close!
It strikes me that it would be really fun to make a language learning recording (or podcast) with these phrases. But I think it would be much better with a native German speaker reading the German. Any volunteers?
This week, we're beginning Chapter 14, Kapitel 14, which begins on page 169 in English, Seite 214 in the German edition. Jo is exploring Eldritch City, so we'll need to learn some handy phrases for a tourist.
"soaked" = durchtränkt ("through-drank")
"the wet breath of plants" = dem feuchten Atem von Pflanzen
"the sweat of strangers" = dem Schwei? von Fremden
"brackish seawater" = fauligem Meerwasser
"rotten cheese" = verschimmeltem Käse
"melted manure" = geschmolzenem Dung (Aren't you glad you know how to say that now?)
"the sweet fruity thrill of ten thousand flowers" = dem sü?en, fruchtigen Duft von Zehntausenden von Blumen
"thronged" = wimmelte
"centipedes" = Tausendfü?lern ("thousand-footers")
"shimmering pantaloons" = schimmernden Hosen
"chromium walking sticks" = Gehstöcke aus Chrom
I like saying this:
"precariously tall hats" = gefährlich hohe Hüte
"tipping" = lüpften
"swampy bottom of the mountain" = sumpfigen Fu?es des Berges
"gray eel-like creatures" = aalartige graue Kreaturen
"twitching worms" = windenden Würmern
"propped up by scaffolding" = gestützt von Gerüsten
"variety" = Vielfalt ("much-diversity")
"boisterous" = lärmende
"peephole" = Guckloch
"kicking around hairy, jeweled animal skulls"
= haaarige, juwelengeschmückte Tierschädel herumkickten
"hide-and-seek" = Versteckspiels ("hiding games")
"whale-god" = Walgottes
"floating mountain" = schwebender Berg
"incense" = Weihrauch ("Christmas-smoke")
"notoriously clumsy flame-spurting double-sided lance"
= berüchtigten, etwas sperrigen, zweiseitigen, Flammen spuckenden Lanze
"weapon of choice" = Lieblingswaffe
"ostrich" = Strau?
"old haunts" = alten Spielgründe ("old play-grounds")
"swamp neighborhood" = Sumpfgebiet
"flower-dripping" = von Blumen übersäte ("with flowers over-sowed")
"stilt legs" = Pfahlbeinen
"most distinguished eelmen" = respektabelsten Aalmenschen
"bubbling iron pot" = blubbernde Eisenkessel
"sweaty, fish-smelling smoke" = muffigen, fischigen Rauch
"throbbing" = hervorstehenden
"delighted gargles" = entzückte gurgelnd
"brittle" = spröder
"blobs" = Knubbel
"declared" = deklamierte
"boiled cabbage" = gekochter Kohl
.
"flared her nostrils" = weitete ihre Nasenflügel ("widened her nose-wings")
"weight-lifter" = Gewichtheber
That's the end of a section. Now I challenge you to use some of these phrases in a sentence! May you be blessed this week with dem sü?en, fruchtigen Duft von Zehntausenden von Blumen and not with dem Schwei? von Fremden or even gefährlich hohe Hüte. But if you're ever in Germany and you want to describe sweaty, fish-smelling smoke, you'll know how to do it!