I'm at ALA Annual Conference 2013 in Chicago! Tonight's my earliest night, so I thought I'd post a quick one about my travel day and the first night's activity.
I had a nice middle of the day flight. But alas! My problems with vertigo and vestibular migraine I think contribute to a fact I had to face: I do not handle turbulence well. It was a turbulent flight and I did NOT feel good by the time it was done. I knit when taking off and landing to try to combat that, and I sit by a window, but that wasn't enough. Following with a 45-minute subway ride didn't help.
Otherwise, it was an enjoyable flight. I started reading Savvy, by Ingrid Law, because I always bring paperbacks I own on trips instead of library books, and in my rotation up next is an award winner, and Savvy was a Newbery Honor Book, so it qualifies. Turns out, this copy was signed to me by the author at ALA Annual Conference in 2011! What took me so long to read it? I'm loving it.
One thing I hate about reading on airplanes — you have to stop when the plane lands! But I do have some bedtime reading tonight!
And Shannon Hale tweeted that her new book, Dangerous will be at booth 2105! That is going to be my *first* stop when the exhibits open tomorrow. Though I may not make it there right at opening, because I still have to register, and get permission to bring a rolling cart on the exhibit floor, so I don't aggravate my vertebral artery dissection. (I don't want another stroke. The first one happened after ALA!) So they better still be there!
I oh so foolishly spent an hour and a half waiting for a shuttle and then taking it to try to register tonight. Foolishly, because I hadn't read that they closed registration at 5. I thought they closed when the shuttles stopped at 6. And we didn't even get there until after 6, because traffic was awful. But I was able to scope out Chicago.
And then — the wonderful part! I'm doing the Preconference tomorrow: "A Wild Ride: 75 Years of the Caldecott Medal." It's happening at the Art Institute of Chicago. Even though I don't know a lot about art, I just had to go to this. And tonight they had a reception for attendees, with several Caldecott Award and Honor winners signing books — and an exhibit of original art from their books.
Why is it so amazing to look at original art? The books are wonderful, and the pictures are designed for books. But looking at this artwork took my breath away.
I did resist purchasing picture books. Though after I went away, I thought what an opportunity it is to be an Outstanding Aunt to my two new nieces. (We'll see if there are more signings.)
I do have to show Paul Zelinsky's wonderful shirt, made with images from the fabulous Z Is for Moose (which was a 2012 Sonderbooks Stand-out).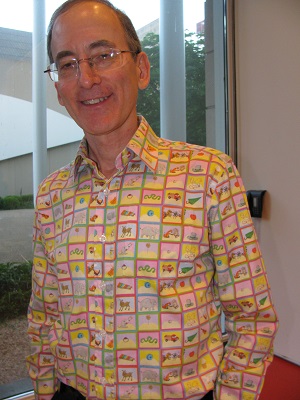 And I can even tell you who the people are in the picture at the top. Here's another one, a little more blurry, but with more of them looking at me: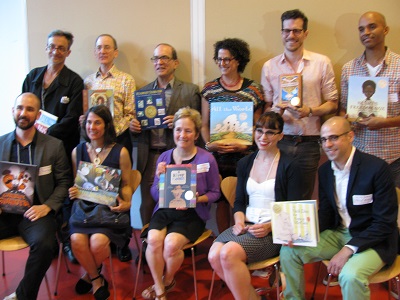 Top row: Chris Raschka, Paul Zelinsky, Leonard Marcus, Marla Frazee, Brian Selznick, and Kadir Nelson
Front row: Peter Brown, Pam Zagarenski, Melissa Sweet, Erin Stead, and her husband, Philip C. Stead.
And here's a view from the side: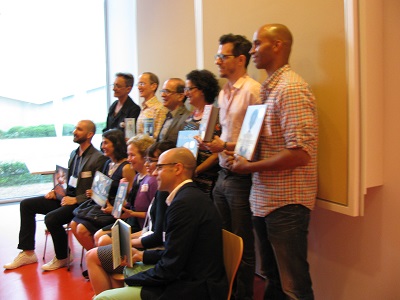 Tomorrow, I get to hear these people talk about creating picture books! I'm so excited!