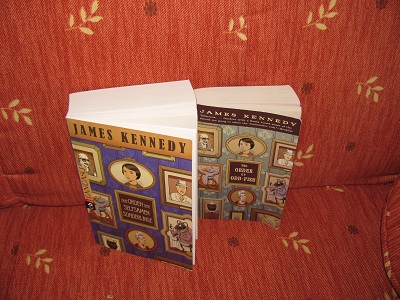 It's time for Sonderling Sunday! That time of the week when I play with language by looking at the German translation of children's books. Tonight I'm back with my stand-by, the book that started it all, Der Orden der Seltsamen Sonderlinge, The Order of Odd-Fish, by James Kennedy.
We left off on page 176 in the English edition, Seite 223 in the German edition. Sefino is just going to take Jo to the newspaper office of the Eldritch Snitch, which is Schauerlichen Petze in German. Roughly translated, that's "Horrible Sneak."
I'm sure I've done this one before, but it bears repeating:
"Chatterbox" = Plaudertasche
"severely" = nachdrücklich
"retraction" = Gegendarstellung ("opposite-representation")
"first draft" = erster Entwurf
I like this:
"snippy" = schnippisch
"a touch of bravado" = einen Tick tollkühn
This goes more quickly in English:
"odds be damned" = auf die Wahrscheinlichkeit gepfiffen
"the thick of the fight" = hei?e Kampfgetümmel ("hot war-turmoil")
"swashbuckler" = Draufgänger
"strolled" = schlenderte
"hive" = Bienenstock
"coves" = Schlupfwinkeln ("slip-nooks")
"cubbyholes" = Kämmerchen ("little chambers")
"chattering away relentlessly" = unaufhörlich klapperten
"hassle" = schikanieren
"nest of vipers" = Schlangengrube
"necktie" = Halstuch
"ascot" = Plastron
"Intimidator" = Einschüchterer
"bold" = gewagt
"frosted glass" = Milchglas ("milk-glass" I like that.)
"appetizers" = Appetithäppchen
"toothpick" = Zahnstocher
"battle of wits" = Schlacht der Geister
Oh, not as good:
"vigorous verbal vituperation" = heftigen, verbalen Schmähungen
"intricate insult" = bemerkenswerten Beleidigungen
"calamitous calumny" = verheerenden Verleumdungen
The insults are always good!
"ink-stained wretch" = tintenklecksender Unhold
"scandal-sniffing hack" = Skandale erschnüffelnder Schreiberling
"salacious slander" = vulgären Verleumdungen
"spluttered" = stammelte
"impertinence" = Unverschämtheit
"insufferable taste" = unerträglichen Geschmack
"every ounce of courage" = jedes Fünkchen Mut
"buffoon" = Hanswurst
That's the end of Chapter 14!
Some good stuff in there! Don't be a tintenklecksender Unhold or a Skandale erschnüffelnder Schreiberling! Drum up jedes Fünkchen Mut to join hei?e Kampfgetümmel like a Draufgänger. But whatever you do, don't be schnippisch!
See you next week! And if you need to use these phrases in German next week, you can be so happy that you are prepared!