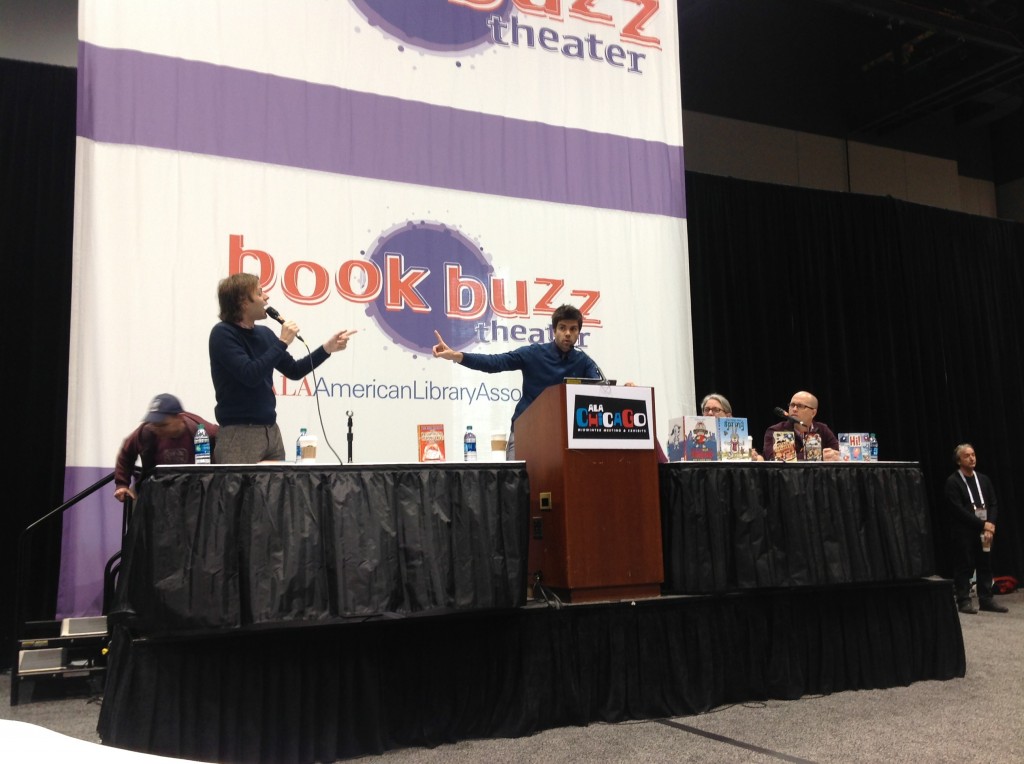 This morning, at ALA Midwinter Meeting, I started off my morning in the Book Buzz Theater for the Abrams Preview of upcoming titles.
Here are my notes:
Abrams Book Buzz
Mac Barnett & Jory John started it off, talking about their new book, The Terrible Two – It's a book about pranksters.
A kid comes to a new school and wants to be the school prankster, but this school already has a prankster. He must outdo and uncover the other. A book about friendship.
The audience took the prankster's oath! "amuse the merry" "dismay the dour"
Tom Angleberger
New book: The Rat with the Human Face
Ended the Origami Yoda series last year because the story was ending.
Relaunching the Qwikpik series.
What they are about: A poop fountain, and a rat with a human face — sort of cast as historical fiction. About real kids. Need to find the audience.
New book in the fall: Picture book about a toad McToad Mo's Tiny Island.
It has every form of toddler-beloved transportation.
Daniel Kirk — You Are Not My Friend, But I Miss You
and The Thing About Spring
A little simpler than his previous books.
Character ended up being a sock monkey (like one he'd stolen as a child).
Favorite toy is stolen — can he get a new friend or not? Be his own best friend?
The Thing About Spring – a character who hates spring and doesn't want anything to change. Trying to save snow for later.
Andrea Beaty – Rosie Revere Engineer will be going to the International Space Station this fall — Storytime from Space!
Happy Birthday, Madame Chapeau, illus by David Roberts
andreabeaty.com has info about the illustration process.
Fluffy Bunnies 2: The Schnoz of Doom sequel to Attack of the Fluffy Bunnies.
Originally, it was supposed to be about bunnies so cute they make the cats on the internet weep from jealousy. Became six-foot-tall scary bunnies from outer space and their planet is going to be struck by a marshmallow.
Kids save the earth from the enormous fluffy bunnies — until now. It's a hybrid graphic novel with Dan Santat. Some real science, but utterly stupid.
Ethan Long: Hi! An original board book series.
Profile eyes to make it subdued and unthreatening. 18 words.