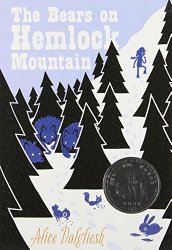 The Bears on Hemlock Mountain
by Alice Dalgleish
illustrated by Helen Sewell
Charles Scribner's Sons, New York, 1952.
Starred Review
Newbery Honor Book, 1953
ALA Notable Book
Today I was shifting Juvenile Fiction books in the D's and I saw this book, and couldn't resist checking it out. I took it home and read it, having to say the refrain aloud:
THERE are NO BEARS
ON HEMLOCK MOUNTAIN,
NO BEARS AT ALL.
OF COURSE THERE ARE NO BEARS
ON HEMLOCK MOUNTAIN,
NO BEARS, NO BEARS, NO BEARS,
NO BEARS AT ALL.
Of course, the main reason I love this book so much is that I remember my mother reading it to me. I remember all the suspense building as Jonathan's mother and Jonathan say this refrain to themselves, and everyone is thinking about bears. I remember how the crunch, crunch, crunch of the snow changes to drip, drip, drip, which means Spring is coming, and how Jonathan hopes the bears don't know it. And then how incredibly scary it is when Jonathan hides under the big iron pot and the bears start scraping in the snow around it.
I also love what I hadn't remembered – that this is a story of a great big extended family – a little bit like the one I have. When my mother read it to me, we still lived near my grandma, who was good at making cookies, as Jonathan's mother is in the book.
It's rather astonishing to me, reading it now, at how well this story holds up 63 years later. About the only thing that couldn't happen today is that nobody needs to cut wood to keep a fire going for cooking to get done. Oh, and probably Jonathan's father and uncles wouldn't come with guns to shoot the bear.
This is a chapter book – but a chapter book short enough to read aloud, as I well remember. The suspense is incredible, if child-sized. Bottom line, it's the story of an eight-year-old who is now big enough to go over a big hill in the snow all by himself to his aunt's house – because of course there are no bears on Hemlock Mountain.
And that story will never grow old.
Find this review on Sonderbooks at: www.sonderbooks.com/Childrens_Fiction/bears_on_hemlock_mountain.html
Disclosure: I am an Amazon Affiliate, and will earn a small percentage if you order a book on Amazon after clicking through from my site.
Source: This review is based on a library book from Fairfax County Public Library.
Disclaimer: I am a professional librarian, but I maintain my website and blogs on my own time. The views expressed are solely my own, and in no way represent the official views of my employer or of any committee or group of which I am part.
What did you think of this book?