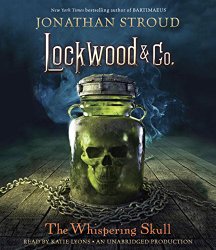 The Whispering Skull
by Jonathan Stroud
read by Katie Lyons
Listening Library, 2014. 11 ½ hours on 9 compact discs.
Starred Review
I'm thoroughly enjoying rereading the Lockwood & Co. series by listening before the third book in the series comes out this month. I was disappointed that a different narrator was used for the second book, but she's still got a British accent, and it's still an enthralling and absorbing story that makes the commuting miles fly by.
In the second book, there's more tension between the members of the agency Lockwood & Co. The skull in the title is our friend in the jar – and it starts talking to Lucy, but continues to say things that build mistrust and get the agency into trouble.
There's more horror in this book – this time the ghost of a man eaten by rats, as well as people who die by looking into a cursed mirror. Lockwood & Co. are looking for this mirror, which was stolen from a coffin that was dug up in their presence and also contained the bones of a particularly threatening Visitor.
Again, this would make great family listening – but only if the kids are old enough for a very scary story. If they'll be badly freaked out by the thought of rats eating a human body – this audiobook is not for them.
However, for older kids and adults, this is more brilliant excitement from Jonathan Stroud. We've got a mystery again – what happened to the mirror? But there's also competition with another agency, secrets between Lucy and Lockwood and George, and more interesting tidbits about this world where dangerous Visitors walk among us, but only kids can see them.
I had so much fun reviewing this series in preparation for Book Three, I have a feeling it's going to become a yearly tradition. (This is a case where I am definitely hoping we're not talking about a trilogy.) I'm just not getting tired of these brilliant books.
jonathanstroud.com
lockwoodandco.com
listeninglibrary.com
Find this review on Sonderbooks at: www.sonderbooks.com/Childrens_Fiction/whispering_skull_audio.html
Disclosure: I am an Amazon Affiliate, and will earn a small percentage if you order a book on Amazon after clicking through from my site.
Source: This review is based on a library audiobook from Fairfax County Public Library.
Disclaimer: I am a professional librarian, but I maintain my website and blogs on my own time. The views expressed are solely my own, and in no way represent the official views of my employer or of any committee or group of which I am part.
What did you think of this book?