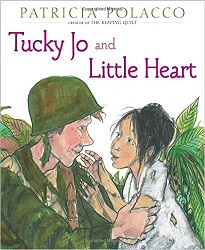 Tucky Jo and Little Heart
by Patricia Polacco
Simon & Schuster Books for Young Readers, 2015. 48 pages.
This is another of Patricia Polacco's tear-jerker touching true stories. This one's about war, so it's more for school-age kids, even though it is a richly illustrated picture book.
The story is told in the words of a man who fought as a youngster in World War II. It's not completely grammatical, but it gives the flavor of his words with phrases like "faster than a scared jackrabbit" and "hit the eye out of a gnat."
When stationed in the jungle, "Kentucky Jo" meets a little village girl, who tells him about a plant to put on his bug bites. He gets to know the girl, brings her food and toys, and eventually his troop adopts the whole village – until they have to be evacuated.
Well, the tearjerker part brings us to the present – when that little girl again shows up in Tucky Jo's life when he's an old man needing medical care.
It's good Patricia Polacco tells us this is a true story, or we wouldn't believe things had turned out so beautifully!
Although this is a story of war, and we do hear that Little Heart's mother was killed by soldiers and her father and brother taken away, the author doesn't dwell on gory details. Instead, she focuses on the heartwarming part of this little girl and her village in the jungle, providing a bright spot in the middle of war.
And in its lovely way, the book shows the lasting impact of love and good deeds.
PatriciaPolacco.com
KIDS.SimonandSchuster.com
Find this review on Sonderbooks at: www.sonderbooks.com/Picture_Books/tucky_jo.html
Disclosure: I am an Amazon Affiliate, and will earn a small percentage if you order a book on Amazon after clicking through from my site.
Source: This review is based on a library book from Fairfax County Public Library.
Disclaimer: I am a professional librarian, but I maintain my website and blogs on my own time. The views expressed are solely my own, and in no way represent the official views of my employer or of any committee or group of which I am part.
What did you think of this book?