I've already told about my first morning at KidLitCon 2015 in Baltimore.
After lunch, I got to hear Carrie Mesrobian, author of Sex and Violence (really!) talk. And I was won over, and loved listening to her.
She teaches teens and writes about them. Both are extremely creative endeavors — but that's all they have in common. As a teacher, she wants them to have everything good (though it's impossible to save them). As a writer, she lets them suffer.
We teach ourselves about reality through story. All our lessons come in story form. The trouble with reality: It's ubiquitous. But everyone's ubiquitous reality is different.
Do we ever say, "strong male character"? What are our default assumptions?
Being outside the kingdom of white middleclassville makes some nervous. They either see it as terrifying or of no value.
Readers may get emotional cover talking about sexual violence of fictional characters. When we quarrel with fictional reality, the end result is loss.
After Carrie's talk, there was a panel made up of people who have been on multiple award committees. They agreed that reading for awards changes how you read and makes you self-aware of your own prejudices. They also reminded us not to second-guess the committees. They are the only ones who have read all the eligible books in that much depth.
They also told us to be sure to suggest books to the various committees! (And Cybils nominations are open for one more day as I'm posting this!)
After this session, there was an Author signing and meet and greet. And we finished up the night with a Cybils birthday dinner and bowling. I got to bowl with author Jacqueline Jules and her husband.
Here is Anne Boles Levy, who began the Cybils, celebrating with us: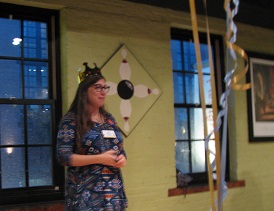 It was a wonderful first day of KidLitCon!