Happy New Year!
It's January 1st, and that's the day the Cybils Award Finalists are announced!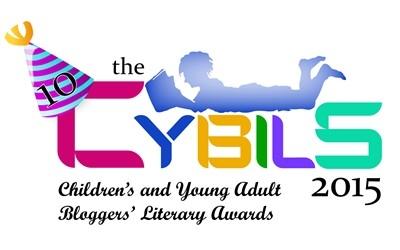 Not everyone's aware of the Cybils Awards — one of the best awards out there for recommending books to children and teens. Cybils stands for Children's and Young Adult Bloggers' Literary Awards. The books are judged by book bloggers (such as me!) and the process happens in two phases: On January first, Finalists are announced in eleven categories. On February 14th, one winner will be announced from each category.
But I persist in thinking that the real power of the Cybils is in the lists!
Here's why the Cybils are so fantastic for librarians and other people who recommend children's books:
They're chosen for literary quality and kid appeal. There's some question in the Children's Book world whether the most famous literary awards are actually books children like. Cybils judges are charged to take that into account.
There are eleven categories! Something for everyone, even Book Apps! Besides that, they've got Fiction Picture Books, Easy Readers and Early Chapter Books, Poetry, Graphic Novels, and Non-Fiction, Fiction, and Speculative Fiction for both Elementary/Middle Grade and Young Adult.
Each list is chosen to include variety and diversity. This partly comes simply from having a panel of judges, but those judges do a good job representing their category well. You'll normally find ethnic diversity represented, but also books with male and female protagonists and simply books that appeal to a wide variety of readers.
This year, I served on the Fiction Picture Books panel. Later on today, I'll be posting my Sonderbooks Stand-outs for 2015. You will notice that the two lists don't completely overlap. Some of the books we chose aren't my personal favorites. However, I stand by our list, and I'm proud of it! These are high quality books, and I do recommend all the books our panel chose. They are truly wonderful. (For some, I had to have my eyes opened to their wonder by the other panel members.)
And now to take a look at the other categories!
My usual category is Elementary/Middle-Grade Speculative Fiction. I haven't read any of their choices this year, so I need to get busy reading!
Yay! A Finalist I read and loved! Mortal Heart, by Robin LaFevers, is on the Young Adult Speculative Fiction list. It was my #1 Teen Fiction Sonderbooks Stand-out for 2014. (The Cybils run from mid-October to mid-October publication dates.)
Another book I've reviewed, Ling and Ting: Twice as Silly, is an Easy Reader and Early Chapter Books Finalist.
Two books I've reviewed are on the Elementary/Middle-Grade Non-Fiction List: I, Fly and One Plastic Bag.
On the Graphic Novels list, I have almost all the books checked out, intending to read. This will increase my resolve! I have read and written a review of The Marvels, by Brian Selznick, but it's not posted yet.
From the Poetry List, Winter Bees and Other Poems of the Cold was a Sonderbooks Stand-out last year.
The other categories don't have books I've read, but definitely have books I'm intending to read: Middle Grade Fiction, Young Adult Fiction, and Young Adult Non-Fiction. (Okay, with that last list I am halfway through Symphony for the City of the Dead. It is excellent.)
And I don't usually try these out, but I like that the Cybils makes me aware of good ones: Book Apps.
Now if you want some great ideas of things to read in the New Year, you know where to look!
Happy New Year and Happy Reading!