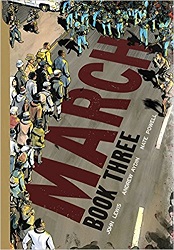 March, Book Three
by John Lewis and Andrew Aydin
art by Nate Powell
Top Shelf Productions, 2016. 246 pages.
Starred Review
2016 National Book Award for Young People's Literature
2017 Printz Award
2017 Coretta Scott King Author Award
2017 Siebert Medal
2017 YALSA Award for Excellence in Nonfiction
2017 Battle of the Books Winner
I was at the Youth Media Awards in Atlanta, Georgia, on the Monday after Trump's inauguration, when this book by John Lewis won an unprecedented four awards, and not a single Honor among them. Atlanta is John Lewis' home district, so he was there, and had participated in the weekend's Women's March. Later that day, I went to the YALSA Excellence in Nonfiction Award program and heard John Lewis speak. Every speaker mentioned how thrilled they were to be in the room with him. After that, I received a free copy of this book, got it signed, and shook his hand.
And this book continues the telling of his story, in graphic novel form. This volume 3 contains more violence than the earlier volumes. It begins with a bombing of a church in Birmingham on September 15, 1963, and continues through Bloody Sunday on March 7, 1965, when marchers were met with violence at the Edmund Pettis Bridge and John Lewis was hospitalized, and ends with the signing of the 1965 Voting Rights Act into law.
The whole story is framed by looking back from the day of President Obama's Inauguration – a direct result of the work that was done in the 1960s.
The book is about idealism and about conflict – from both within the movement and outside it. It's also about nonviolence being met with violence and standing for what you know is right.
An accessible look at history through the eyes of someone who was there, this book is a monumental achievement and deserves all of the many awards it has won.
I'm putting this on my page for Children's Nonfiction, because it is written for teens (and I don't have a teen page for nonfiction). But be aware that the level of violence is high – because that's what these activists faced. They put their lives on the line for what's right.
Find this review on Sonderbooks at: www.sonderbooks.com/Childrens_Nonfiction/march_book_3.html
Disclosure: I am an Amazon Affiliate, and will earn a small percentage if you order a book on Amazon after clicking through from my site.
Source: This review is based on a library book from Fairfax County Public Library.
Disclaimer: I am a professional librarian, but I maintain my website and blogs on my own time. The views expressed are solely my own, and in no way represent the official views of my employer or of any committee or group of which I am part.
What did you think of this book?