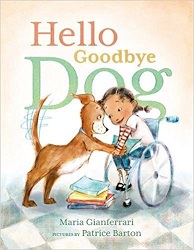 Hello Goodbye Dog
by Maria Gianferrari
pictures by Patrice Barton
Roaring Brook Press, 2017. 36 pages.
Starred Review
Hello Goodbye Dog is about Zara's dog Moose, who loves Hellos and hates Goodbyes.
In fact, Moose hates Goodbye so much, he breaks out and follows Zara to school, where he gets a Hello!
Moose escapes more than once. Each time, Zara is able to get him calm and quiet by reading aloud to him. But then, he inevitably hears "Goodbye" and puts on the brakes. Each time, it takes progressively more people to get Moose to leave.
After an eventful day, where Moose finishes up by playing tag in the cafeteria when he hears the dreaded "Goodbye," Zara has an idea. This is where the book won me over completely – Zara brings Moose to therapy dog school!
Moose becomes the Class Reading Dog and is now welcomed by all the people who tried to get him to leave before.
There's an author's note at the end about therapy dogs and read-to-the-dog programs.
But besides being good advertising for read-to-the-dog programs, this book tells a lovely story. The art shows Moose being so friendly and eager all along. There's a progression and a lilt to the story, which will help beginning readers. I love that Zara's in a wheelchair, and this isn't commented on except to note that Moose is extra good with wheelchairs.
A nice story about a dog who loves Hellos, loves his girl, and loves to hear stories.
mariagianferrari.com
patricebarton.com
mackids.com
Find this review on Sonderbooks at: www.sonderbooks.com/Picture_Books/hello_goodbye_dog.html
Disclosure: I am an Amazon Affiliate, and will earn a small percentage if you order a book on Amazon after clicking through from my site.
Source: This review is based on a library book from Fairfax County Public Library.
Disclaimer: I am a professional librarian, but I maintain my website and blogs on my own time. The views expressed are solely my own, and in no way represent the official views of my employer or of any committee or group of which I am part.
What did you think of this book?