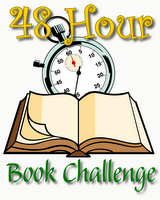 For several years, I've done 48-Hour Book Challenges, inspired by Mother Reader.
Knowing that this year I need to read more books than ever before in a year, I first thought I'd try to do one 48-Hour Book Challenge each quarter of 2018.
Well, I still may do that. But last weekend, at ALA Midwinter Meeting and the first meeting of the 2019 Newbery Committee, I decided I need to do more. I've got President's Day holiday coming up – so why don't I try to do a 24-Hour Book Blitz each month? Starting tonight!
Here are my rules: The object is to spend as much time as I can in the next 24 hours reading and blogging.
I began at 10:15 pm Sunday night, and I will finish at 10:15 pm on Monday night.
It might be smart to just do reading, but I have finished several books that I still need to review, so I'm going to count writing reviews as well. I'm going to make a stipulation, though, that I can't count more than half as much time writing/blogging as I have spent reading. So blogging won't get more than one-third of the time.
Now, some years I've done better than others, sometimes even skipping trivialities like a shower. However, tomorrow morning I've got a dentist appointment to get a permanent crown, so I will have to take time for that and for showering! But I figure this means my first 24-Hour Book Blitz will have a result that I will be able to beat the next time I try it.
Time to get reading!